Choosing a Home Projector:
XGIMI Elfin vs. XGIMI HORIZON
By XGIMI Tech - 2022-03
Introduction
Home movie nights are a fun idea for family and friends to bond over a great movie. With a large screen, cozy living room, slightly-dimmed lights, refreshments (drinks and popcorn), and an interesting movie (comedy, action, horror thriller), a home cinema night is complete. The company of familiar faces enjoying a movie together in their home is a great experience. While TVs can be sufficient for movie nights, a home theater projector can give that luxurious cinematic feel and deliver excellence to a home cinema setup.
Home theater projectors have powerful features like high resolution display (1080p or 4K) and excellent sound quality, that can spice up any indoor movie night. While the food, drinks, and company are great, a lack of finesse in delivering the movie itself may sour the mood and ruin the night. Poor sound or image quality will leave the audience distracted and unable to truly appreciate the movie. An ideal movie projector has great sound quality, powerful imaging capabilities, built-in entertainment, and multiple connectivity options to deliver an immersive viewing experience.
XGIMI is a brand known for excellence, and its home projectors, Elfin and HORIZON, are great for setting up a personal home theater. Elfin and HORIZON can deliver movies in 1080p resolution and support 4K formats. They also have various features that make them great movie theater projector options.
The Ideal Home Projector
Several factors contribute to making the ideal movie night experience possible. To deliver a great viewing experience, the projector's features should meet the following requirements:
• Sleek Design
For home theater projectors to make a lasting impression on any home cinema setup, they must have great features. Yet, their overall appearance and the degree to which they fit into the home interior decor play a crucial role in determining their appeal to potential buyers.
Ideal home movie theater projectors usually have an exquisite look that helps them pass as extensions of the home decor and easily fit into living room settings. They take up little space, and do not look out of place in living rooms compared to bulky TVs and projectors. Their looks exude luxury, and their general design makes it easy for users to find a perfect spot for them in the home, even when they need to move them from room to room.
• FHD Resolution
The ideal home theater projector should be able to deliver a cinematic viewing experience in the home. One factor that makes widescreen displays stand out and appeal to the audience is a great resolution.
Movies projected in Full HD (1080p) resolution have a crisper and cleaner image. Hence, a home projector capable of producing images at Full HD resolution is ideal. Also, some 1080p home projectors can support 4K resolution video formats, which is a bonus.
• Brightness
Home projectors are open to being used at any time of the day, and even with the interference of ambient light from bulbs and lamps in the home. A dark image projection will be lost in daylight, making users strain their eyes to make out the image on the screen.
Ideal home movie projectors should produce a bright image, between 800 to 2200 ANSI lumens. With a brightness within the range above, one can get a clear and illuminated display even in daytime use.
• Built-in Entertainment
Projectors have evolved into full-blown entertainment devices. Some run on Android TV and sport features like Chromecast built-in, Bluetooth, WiFi, and ports for casting content from several different sources.
An ideal home theater projector should have an Android TV built-in for users to stream their favorite movies when connected to the internet easily. Also, projectors with the Chromecast built-in feature can cast content from users' smartphones or computers with a WiFi connection.
• Large Display
A cinematic experience is incomplete without a widescreen display. Good quality movie theater projectors should be able to produce a large image but not at the expense of quality. While movie projectors can deliver a display between 40 to 200 inches, the ideal range is between 60 to 150 inches to retain quality. For maximum efficiency, projector screens are recommended. White walls are also often used, although quality loss is minimal on projector screens compared to walls.
• Excellent Sound
The role of sound in making movies enjoyable can never be overemphasized, as the human mind is mostly captivated by sights and sounds. With excellent and room-filling sound, the audience can connect to the movie deeply and be completely immersed in the action. An ideal home theater projector should be able to deliver great sound quality with its built-in speakers and have connection ports for external speakers.
• Easy Setup
Ideal movie projectors are easy to set up, as they have features that can get the indoor movie night setup up and running in seconds. Technology like auto keystone correction, auto focus, obstacle avoidance, and intelligent screen alignment are features to look out for when choosing a projector for home use. Also, idea home projectors have features like Bluetooth, WiFi, built-in speakers, and Android TV. Without these features, users would need to use more wires during setup to connect speakers, computers and other devices to the projector.
Auto keystone correction automatically delivers a rectangular image regardless of the projector's position. With auto focus, users get a clear and sharp display in seconds. Obstacle avoidance smartly keeps the projection away from objects that can alter the display, especially when projecting onto walls. With intelligent screen alignment, users can sit back and watch how the projected image is perfectly aligned to the projector screen's dimensions automatically.
Elfin and HORIZON are excellent home theater projector products from XGIMI. Based on the following features, this is how they compare to one another:
Design
Elfin usually comes in white color, is sleek, and has a thin, compact design. One can mistake it to be a portable projector as it is no larger than a book and can fit easily into a bag. Elfin's sleek design makes it easy to move around within the home if rearrangement is needed, and it is great for office and classroom use.
HORIZON, on its part, comes in a dark metal hue with smooth curved edges and a compact square shape, taking up little space while gracing the room with its classy looks. The home projector is built to exude class and luxury and is a beautiful-looking device that can stand out in any living room decor.
Resolution
Elfin and HORIZON are 1080p home projectors capable of delivering content in native Full HD resolution, although they also support 4K video formats. With Full HD delivering a crystal-clear image even with a widescreen display, Elfin and HORIZON can make every movie night date truly special.
Brightness
XGIMI Elfin can deliver an image as bright as 800 ANSI lumens, perfect for a cinematic movie night in the living room. HORIZON has a brightness capability of 2200 ANSI lumens and an automatic brightness adjustment technology.
Users can enjoy their favorite content in bright projection at any time of the day, even in well-lighted rooms. The brightness levels automatically adjust based on the amount of ambient light in the room, protecting the eyes in low light and keeping a bright image in the daytime.
Built-in Entertainment
Elfin and HORIZON run on Android TV™, which will be upgradable in future to its most recent version. With Android TV, users have over 5,000 apps to choose from for their entertainment needs, including well-known streaming apps like YouTube, HBO Max, and Hulu. With a WiFi connection, users can watch their favorite reality shows, stream movies, or enjoy live sporting events with their home projectors.
Elfin and HORIZON also have the Google Assistant feature, which gives users voice control via the XGIMI remote, allowing them to find and play their favorite content with ease. They also have the Chromecast built-in feature, enabling users to cast content directly from their smartphones and laptop devices with a WiFi connection.
Large Display
Elfin can deliver an image size of 40 to 200 inches. The recommended range is between 60 to 120 inches for the best size to quality balance. HORIZON can also produce an image between 40 to 200 inches, and the range for the ideal size to quality balance is between 60 to 150 inches.
Watching movies on widescreen displays gives a more immersive experience than smaller screens, especially when the image is of excellent quality. Viewers can see every detail clearly and enjoy the bright and lifelike colors. Elfin and HORIZON do not sacrifice size for quality or vice versa within the recommended ranges above and can deliver an awesome viewing experience for movies, games, and sports.
Sound
For great sound quality, Elfin and HORIZON are fitted with built-in speakers from Harman Kardon. The Harman Kardon brand represents excellence in sound, capable of delivering cinema-standard sound with excellent immersion and balance.
Elfin comes with dual 3W speakers, while HORIZON has dual 8W speakers, all built-in, and can produce excellent room-filling sound for a luxurious cinematic experience in the home. With their built-in speakers, Elfin and HORIZON saves users the extra cost of external speakers.
Easy Setup
HORIZON and Elfin have XGIMI Intelligent Screen Adaptation (ISA) technology for ease of setup and usability. For a quick and hassle-free home movie night setup, auto focus sharpens the display automatically and keeps it sharp throughout the usage time. Auto keystone correction ensures that the projector produces a rectangular image from any angle, correcting the display ±45° vertically and horizontally.
The intelligent screen alignment feature automatically detects the dimensions of the projector screen or marked wall sections and aligns the display to it within seconds. When projecting onto a wall, for instance, the image is scaled to avoid objects that could alter the display by the obstacle avoidance feature. These four features combine to make at-home entertainment with projectors a breeze, saving time and effort for the users.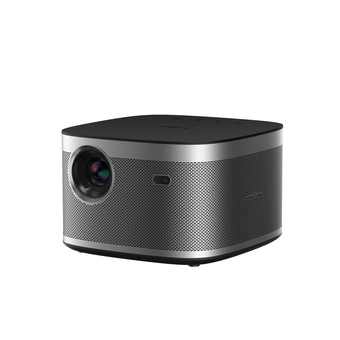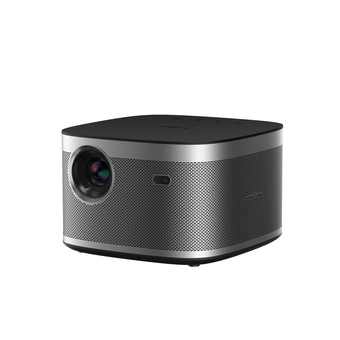 Conclusion
Home entertainment is a lot more fun with movie theater projectors and powerful features that can deliver excellence, as seen in cinemas. With great imaging features, sound, and built-in entertainment options like Android TV and Chromecast, users can enjoy premium content via thousands of apps and mobile devices.
With great sound, 1080p resolution (4K is a plus), large screen display, brightness between 800 and 2200 ANSI lumens, and ISA technology for easy setup, plus other great features, XGIMI Elfin and HORIZON are excellent home projector options. When shopping for a movie projector for the home, customers are advised to choose an option that suits their unique needs.
You may also be interested in the comparison of Elfin and Mogo Pro.
Get €10 off Your Next Purchase
Join the XGIMI Community Today!