How To Choose A Short-Throw Projector?
By XGIMI Tech - 2022-01
There are various kinds of projectors in the market that come with different features. Read on to learn about 4K ultra-short throw projector, 4K short-throw laser projector, or 4K UHD laser projector according to your needs.
Introduction
Depending on the distance between a wall and the projector there are many types of projectors.
A few of them are:
• long throw
• short throw
• ultra short throw projector
1. What is a short throw projector?
1) Short throw projector- These generally project onto walls or ceilings from a smaller distance of 8 feet from the projecting screen giving larger screen sizes.
2) Ultra short throw projector- These are used to project downwards onto walls or ceilings from an ultra-small distance of 0 to 4 feet from the projecting screen giving larger screen sizes.
2. Differences between short throw and long throw projector
1) Distance: Short throw projectors require a smaller distance of 3 to 8 feet so making them perfect for the living room whereas long throw projectors require a minimum of 6 feet from the projection wall/screen that can be used in various spaces.
2) Size: A long throw projector needs to be placed 8 feet from the wall to get an 80" screen, while a short-throw can be placed about 1-3 feet from the wall and get the same 80" screen. Therefore, getting a large image, from a short-throw projector, should be placed closer to the wall.
3) Speaker- Generally short throw projectors have better sound and have large speakers because of the ample space present in them for mounting large speakers.
3. Who is suitable for a short-throw projector?
1) Those who want to/need to place the projector from a close distance should buy a short throw projector.
2) Those who want a better viewing experience and a 4K ultra HD image quality giving a fantastic cinematic experience should buy a 4K UHD laser projector.
3) Those who want better audio quality should go with the ultra-short projector.
How To Choose The Best 4K Ultra Short Throw projector?
Each film, television, and sports lover wants that big screen and there's nothing as amazing as viewing anything on a big 120-inch projector screen at home.
Below are the features you should consider while deciding which Ultra Short Throw projector will be the best fit for you:
1) Size- The screen size, the weight of the projectors, and distance from the screen should be considered for choosing the projector. There are different sizes for different needs.
2) Brightness- The higher the lumens, the brighter the image will be produced. So it is recommended that one considers buying a projector with 1500-3000 ANSI lumens. Home projectors generally work better at 2000 ANSI lumens.
3) Sound Quality-Large size projectors provide space for mounting large speakers for achieving better sound quality.
4) System- For making the streaming effortless and for experiencing a premium home cinema experience. Projector with Android TV OS is an excellent choice.
5) Setup
• The weight of the projector depends on the setup location. Ceiling mounted projectors require less amount of weight as compared to table projectors.
• Screen length is often taken into consideration as a dimension of viewing attitude, however, it's often measured as a diagonal with an assumption of a 16:9 (1.78), HDTV format, projection display.
AURA ultra short-throw laser projector is one of the best when it comes to providing cinematic experiences to the customers. Read on to know why AURA Laser Projector is the best choice for the users.
1. Features
1) 4K short-throw laser projector A 4K short-throw laser projector can include one laser light source for unmarried-shade projection or three assets for RGB (purple, inexperienced, and blue) full-color projection. 4K UHD laser projector offers probably brighter projected pix, with better coloration.

A. Throw ratio
This one of the best ultra short throw projector with 4K resolution gives a throw ratio of 0:233:1 which gives a large image experience at a smaller distance. Users can place AURA 11.7 inches from any wall and get an enormous 120" screen, or 4.3 inches from any wall and get a 80" screen.

B. Resolution and image quality
• It gives a live cinema experience by projecting 4K ultra HD with 8.3M individual pixels on the screen
• ALDP technology- Advanced laser phosphor display technology used in XGIMI AURA Laser Projector makes the image livelier.
• HDR10- The recommended laser projector comes with HDR10 which has an impressive contrast ratio in bright and even in a dark environment.
• MEMC- XGIMI's AURA Laser Projector is equipped with a Motion Estimation, Motion Compensation technology that delivers a super low latency with the least amount of image blur.
• 3D- An immersive 3D content by AURA's brilliant 4K display gives a cinematic 3D display.

C. Brightness
The XGIMI AURA pairs 4K UHD with a beaming bright 2400 lumens which are most suitable for medium to low light conditions like living rooms or classrooms.

D. System
• Smart Android TV™ system gives uninterrupted entertainment
• Best 4K ultra-short throw projector comes with 5000 plus apps such as Disney+, YouTube, HULU, Prime Video, etc.

E. Sound quality
• 4*15W built-in Harman Kardon speakers in which 2 of them are Tweeter and the other 2 are woofers for a crisp and clear sound;
• The Dolby Digital audio amplifies sound quality;
• The DTS-HD master audio for a blue-ray movie soundtrack;
• The DTS studio sound gives a premium home theatre feel.

2. How to setup
It comes with 8 point keystone correction which allows you to adjust the picture size and quality according to your liking. The keystone corrections can be done manually to correct distorted images.

3. Connections
A. WIFI-connect WIFI and enjoy the Android TV with more than 5000 apps such as HULU and Disney+.
B. USB- To project your local data via USB cables and Pendrive. It has three USB ports to connect products like mobile phones, hard drives, USBs, TV sticks, etc.
C. HDMI- High definition multimedia interface for projection of uncompressed video and audio. The laser projector comes with three HDMI ports, giving ease of connection for "video game consoles, amplifiers, laptops, etc.
D. Bluetooth 5.0- Connects with external speakers, phones, tablets, etc. Users can sit at distance and enjoy a movie night with wireless connectivity.
E. Headphone connectivity- For audio connection options, the projector has one headphone jack, for easy connection of headphones, speakers, sound bars, etc.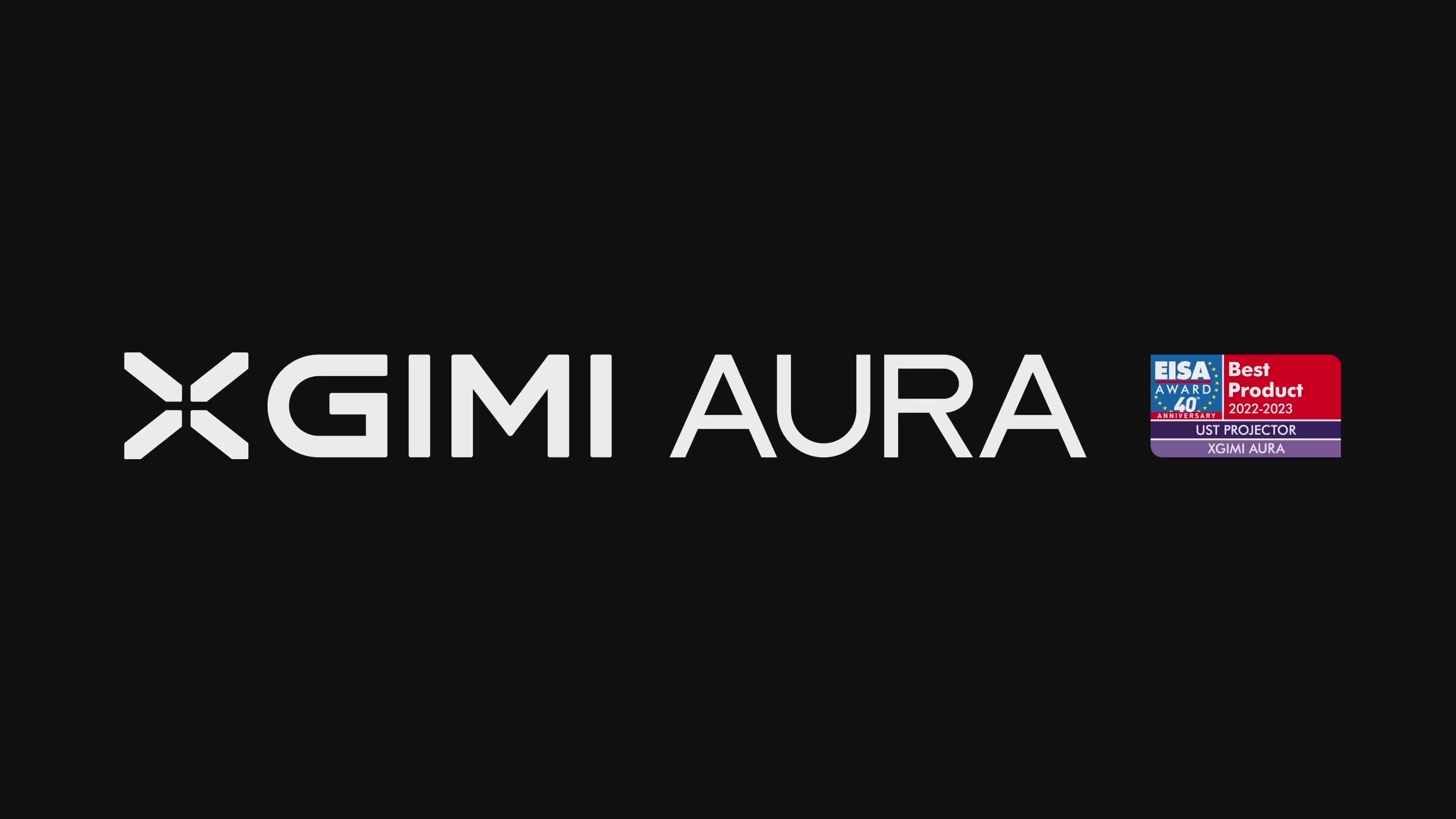 Conclusion
People who want greater cinema experience with ultra high definition (UHD) display quality and high-quality sound consider buying this 4K laser projector. AURA is one of the best short-throw projector because it gives ultra high definition laser display which delivers a lively movie experience that makes you live the moment with the scene. Moreover, the 2400 ANSI lumens give proper bright image quality with ultra HD pictures as the higher the ANSI lumens the brighter the projector. It also has premium sound quality with Harman Kardon speakers and has an Android TV setup with 5000+ apps which gives a faster experience. The 8 point keystone setup, which is extremely easy to follow, and its multiple connectivity options make AURA incredibly easy to use. AURA laser projector has an ALDP technology are the best available product in the market.
The laser projector has the most affordable price range and has all the key features required for a mesmerizing experience. AURA uses diffuse reflection imaging, which removes damaging blue light making it better than traditional TVs and projectors. Enjoy happy movie nights or game nights with friends and family, having great date nights with the one you love…So don't wait and buy it now!
Get €10 off Your Next Purchase
Join the XGIMI Community Today!