Side By Side— XGIMI Halo vs. XGIMI MoGo Pro
By XGIMI Tech - 2022-03
Introduction
The outdoors are often pleasant, especially when weather conditions are favorable under dark skies dotted with stars; watching movies can be a fun idea in such settings. The outdoor movie night, or outdoor cinema, can be an excellent way to wind down during camping holidays or a bonding opportunity for families. Sitting in the backyard, with the wind on their skins, families can have a swell time watching their favorite movies on a big screen. If a quiet ending to a camping trip is on the menu, a movie night in the woods is great to pass the time before everyone falls asleep.
The XGIMI Halo and MoGo Pro are excellent camping projectors with powerful features to deliver a great outdoor movie experience anywhere. This article will explore the features of an ideal portable projector and compare Halo and MoGo Pro side by side based on each feature.
Enjoy an outdoor movie in the backyard or camping with a portable projector
Portable projectors are perfectly suited for outdoor cinema setups, whether in the backyard or camping. They are generally handy, lightweight, and can fit into a backpack easily. They also come with a built-in battery that solves the problem of unavailable power sources, so they can be used anywhere for 2–4 hours as long as their batteries are charged.
Smart portable projectors also feature built-in entertainment and multiple connectivity options like Android TV, HDMI and USB ports, Bluetooth, etc., making sure users never run out of options on movies to watch. WiFi is not always available outdoors, but portable projectors have built-in storage for users to download and save their favorite content. Sound can be easily contained indoors and has greater effects on the audience. In an outdoor setting, however, sound can easily be lost to the winds. Some smart portable projectors come with built-in speakers that produce excellent sound quality and greatly impact the audience.
Features Of The Ideal Portable Projector
A typical portable projector primed to deliver an outstanding outdoor cinema experience must be equipped with certain capabilities to aid its purpose. Since user satisfaction is key, a portable projector with the following features can easily deliver a satisfying user experience:
Built-in Battery

: Camping sites most likely do not provide power sources, so a typical camping projector should have its power source in the form of built-in batteries. A built-in battery projector can last as long as 2-4 hours on a full charge, which is sufficient to treat the audience to one movie, at least.

Small Size & Weight

: Some portable projector brands can weigh as little as 4 pounds. An ideal mini projector should have a small size, enough to be carried around and fit into backpacks easily. Also, they should be lightweight, as heavier products can hardly be considered portable.

FHD Resolution (1080p)

: For an excellent outdoor movie night experience, projectors that project in true Full HD (1080p) are ideal, able to deliver a sharp and crisp image.

Brightness

: A brightness of 300–900 ANSI lumens is sufficient for the ideal outdoor movie experience. Brighter displays are captivating and can easily arrest viewers' attention, especially in nighttime cinema settings.

Built-in Entertainment/ Chromecast Built-in

: With built-in entertainment options, an outdoor projector setup can leverage several sources of content, such that users never run out of options. Some smart portable projectors run on Android TV, which gives access to thousands of apps and streaming services but needs WiFi. They also come with Chromecast built-in for screen mirroring. In settings where WiFi is unavailable, the internal memory for saving downloaded movies/content, and multiple connectivity ports like USB and HDMI will come in handy for casting from flash drives, laptops, etc.

Large Screen

: The portable projector should be capable of large-screen projection between 40–200 inches. However, widescreen displays of 60 to 120 inches are ideal to avoid eye strain or situations where the display is too large for the eyes to take in at once. Outdoor viewing usually requires a projector screen.

Excellent Sound

: Outdoor projector setups require excellent sound to boot, as there are no walls around to restrain the sound to the room like in indoor setups. Some portable projectors come with built-in speakers that deliver great sound and connectivity options for external speakers if available.
| Main differences between Halo & MOGO Pro | Halo | MoGo Pro |
| --- | --- | --- |
| Built-in Battery | 17100mAh | 10400mAh |
| Size & Weight | 3.52 pounds (1.59kg) | 1.87 pounds(0.89kg) |
| Size | 4.47 × 5.71 × 6.75 inches | 5.71 × 4.13 × 3.78 inches |
| Resolution | 1080p | 1080p |
| Brightness | 600 ISO Lumens | 300 ANSI lumens |
| Built-in Entertainment | Android TV™, 5000+apps | Android TV™, 5000+apps |
| Large Screen | 40–200 inches | 40–200 inches |
| Speakers | 2*5W Harman Kardon | 2*3W Harman Kardon |
| Setup | Auto focus & 4-point keystone correction | Auto focus & smart keystone correction |
Built-in Battery
Halo and MoGo Pro come with built-in batteries that help them deliver even in settings without external power sources. Halo's 17100mAh battery gives users 2 to 4 hours of playtime, while MoGo Pro comes with a 10400mAh built-in battery that gives between 2 to 3 hours of playtime. Built-in batteries come in handy on camping movie nights, as campsites mostly do not install power sources everywhere on the facility and backyard movie nights, saving users the hassle of finding cables long enough to get to the closest power source.
Size And Weight
Camping projectors are ideally lightweight and of portable size, making them easily moved about. Halo weighs 3.52 pounds (1.59kg), with dimensions of 4.47 × 5.71 × 6.75 inches, and is shaped like a cylindrical box. MoGo Pro, on the other hand, weighs 1.87 pounds and measures 5.71 × 4.13 × 3.78 inches and has a reputation of being a pocket projector.
Halo and MoGo Pro are easily transported in backpacks or even large pockets and take up little space when packing camping gear. Their lightweight nature makes them easy to handle, even for kids.
Resolution
Halo and MoGo Pro are 1080p projectors. They can deliver projections with resolutions of true Full HD (1080p), producing excellent displays with cinematic richness, well-detailed images, and a crystal clear output. Halo can also support video formats in 4K UHD resolution, although 1080p is the native resolution.
Halo and MoGo Pro stand out from other products with their resolution capacity to produce clear, lifelike colors and great detailing on outdoor movie nights. Users can enjoy a delivery similar to that of cinemas in their backyards or on a camping trip.
Brightness
Halo combines its 1080p FHD resolution capability with a brightness of 600 ISO Lumens, while MoGo Pro comes with a brightness of 300 ANSI lumens. Both projectors are best suited to nighttime use, although Halo can also be used during the day due to its superiority in brightness.
A bright display at night creates an excellent and immersive experience as the viewers can see every detail better and enjoy brighter and more captivating colors.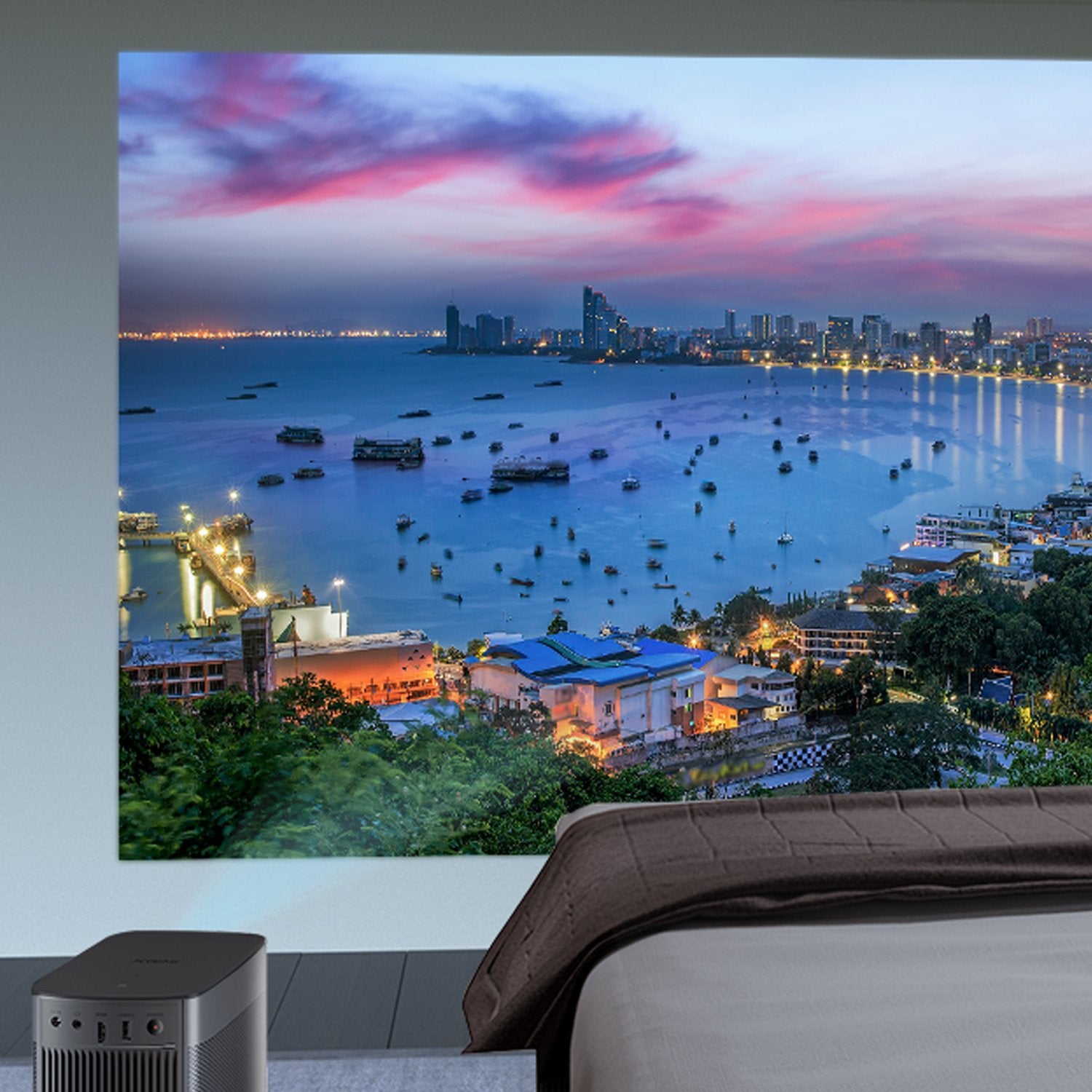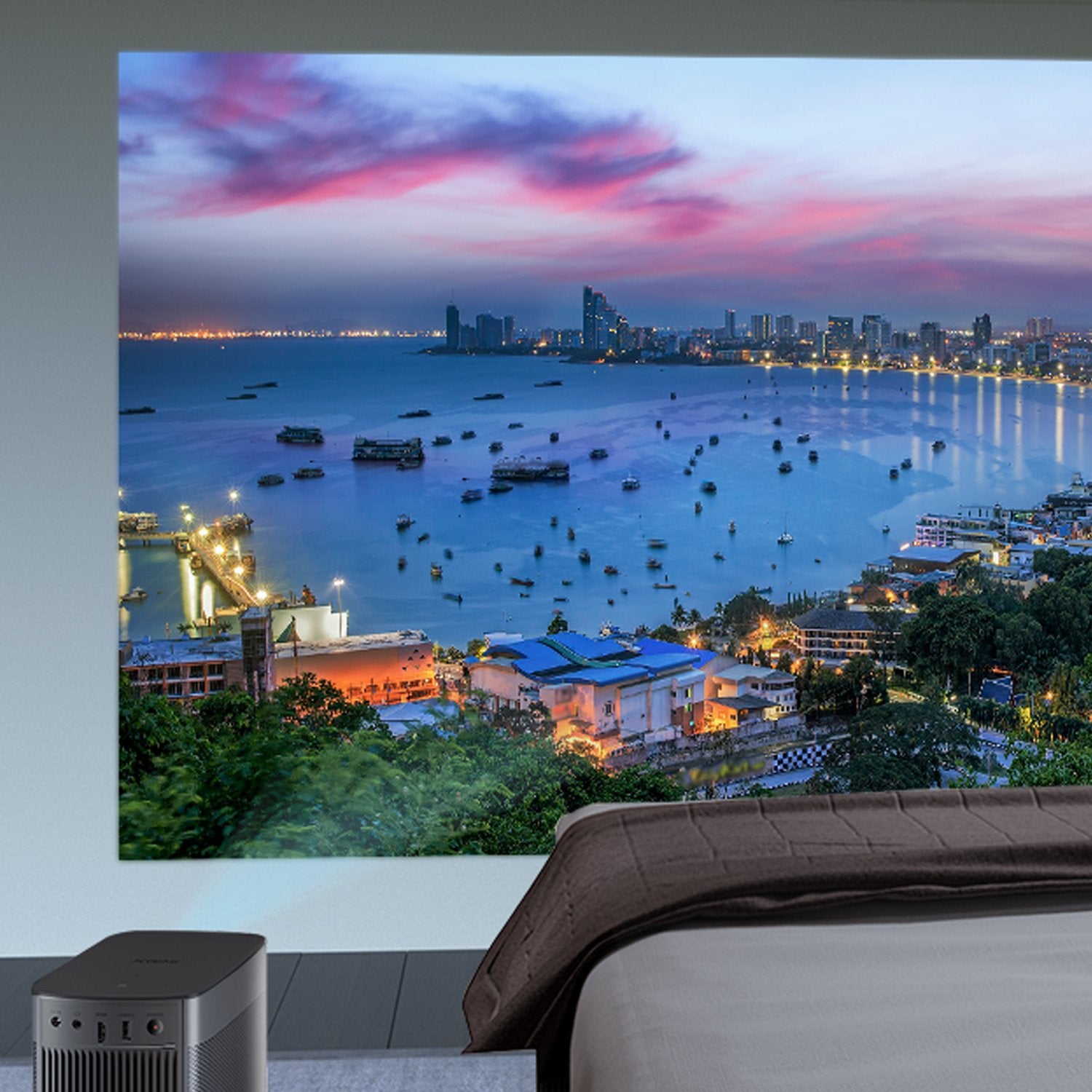 Built-in Entertainment
Halo and MoGo Pro run on Android TV™, giving users access to over 5,000 apps for entertainment, like Hulu, HBO Max, YouTube, and other streaming services. With Android TV, Halo and MoGo Pro are entertainment hubs, able to provide all forms of digital content from movies, TV shows, games, music, etc.
Android TV needs WiFi, which may not be readily available in a campsite, for example. Portable projectors come with internal storage where users can save their favorite content for offline viewing, and connectivity ports that support streaming from flash drives, laptops, hard drives, etc. They also have the Google Assistant feature, which allows users to send voice commands through the XGIMI remote, and a Chromecast built-in feature. The Chromecast built-in facilitates screen mirroring from Android or iOS devices.
Large Screen
MoGo Pro can produce a large screen projection between 40 to 200 inches, although the recommended screen size is 100 inches, falling within the ideal screen range of 60–120 inches. Halo can project an image between 40–200 inches, with a recommended screen range of 60–120 inches to deliver better image quality.
Sound
XGIMI Halo comes with 10W Harman Kardon sound— dual 5W Harman Kardon speakers that produce a rich, noise-free, and immersive sound. MoGo Pro comes with 6W Harman Kardon sound as it has dual 3W Harman Kardon speakers for a smooth, clear, and rich sound output. The audio ports provide connectivity options for external sound equipment.
Harman Kardon is famous for world-class sound output. The speakers in Halo and MoGo Pro produce premium sound quality in outdoor settings. With such sound quality, users can save money meant for external speakers, and also travel lighter.
Easy Setup
For a hassle-free setup, XGIMI Halo comes with auto focus and 4-point keystone correction. The 4-point keystone correction ensures an optimal display from any angle, with automatic ±40° vertical and manual ±40° horizontal correction. Auto focus helps eliminate fuzziness, ensuring a sharp display automatically.
Easy setup on MoGo Pro is possible through its autofocus and smart keystone correction. Auto focus produces a clear and focused display within seconds, while smart keystone correction adjusts the screen vertically and horizontally up to 40 degrees. When camping, a level mounting surface may be hard to get. Auto keystone correction ensures a rightly aligned image even if the projector is not properly balanced.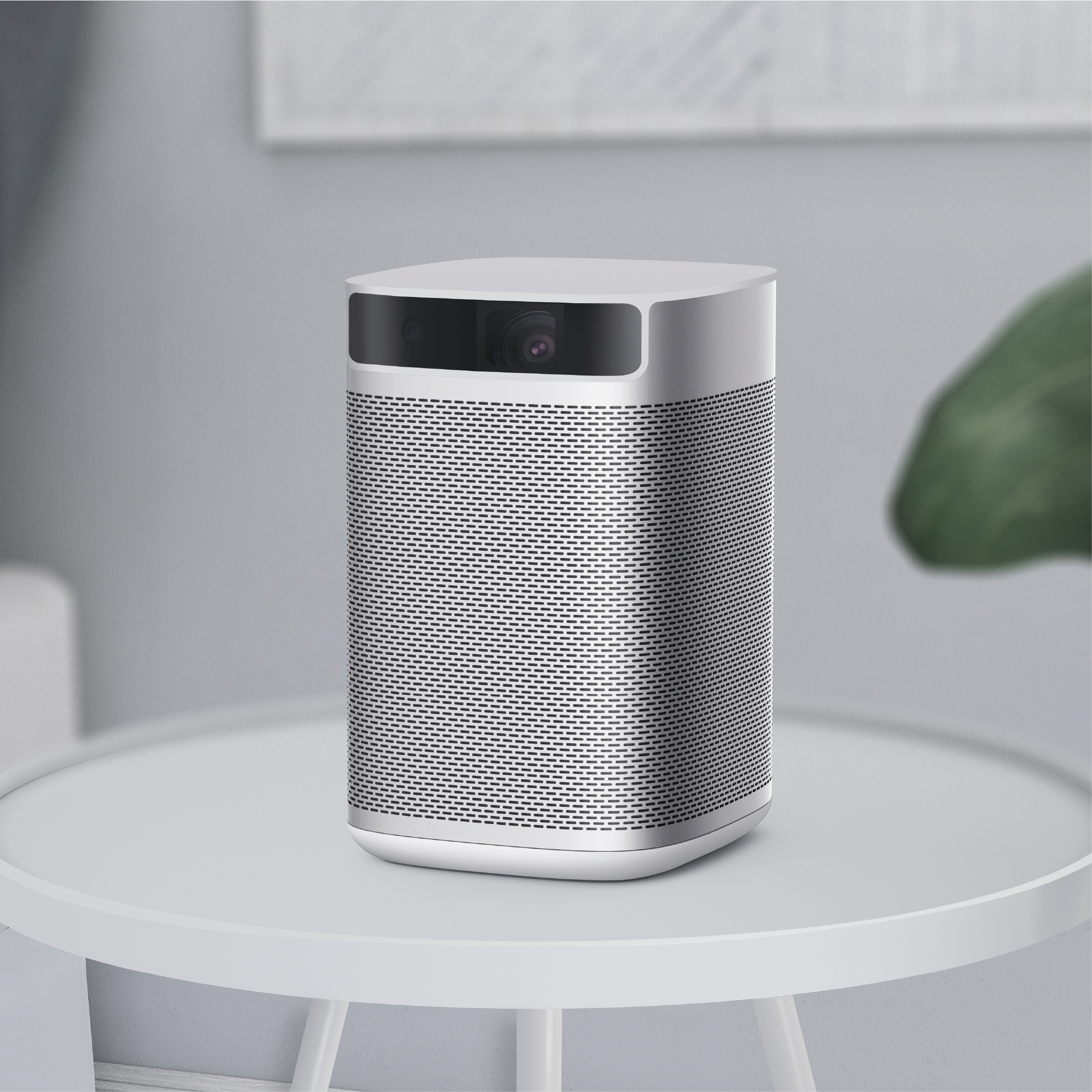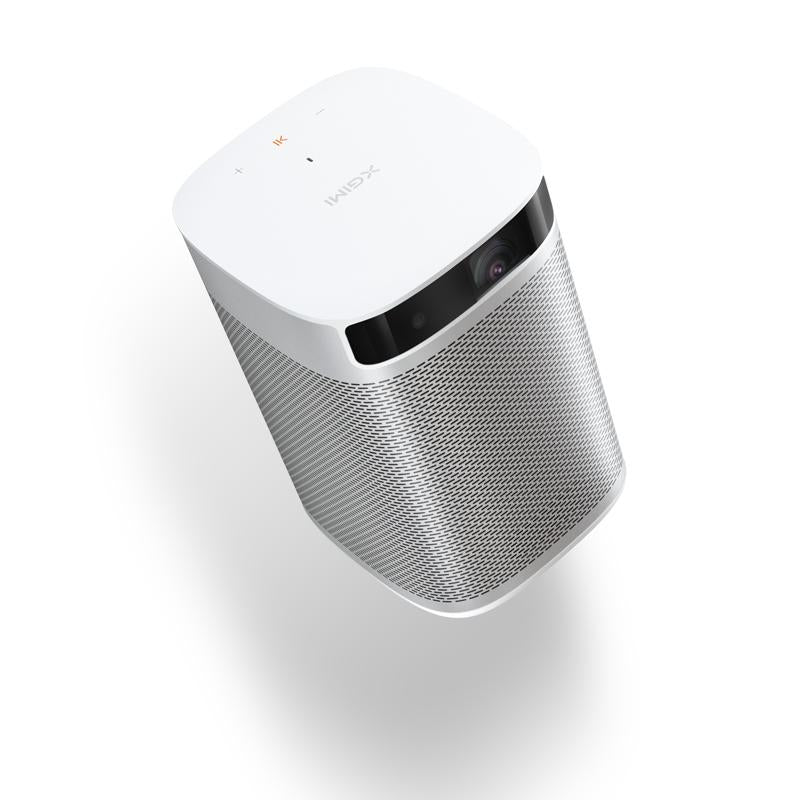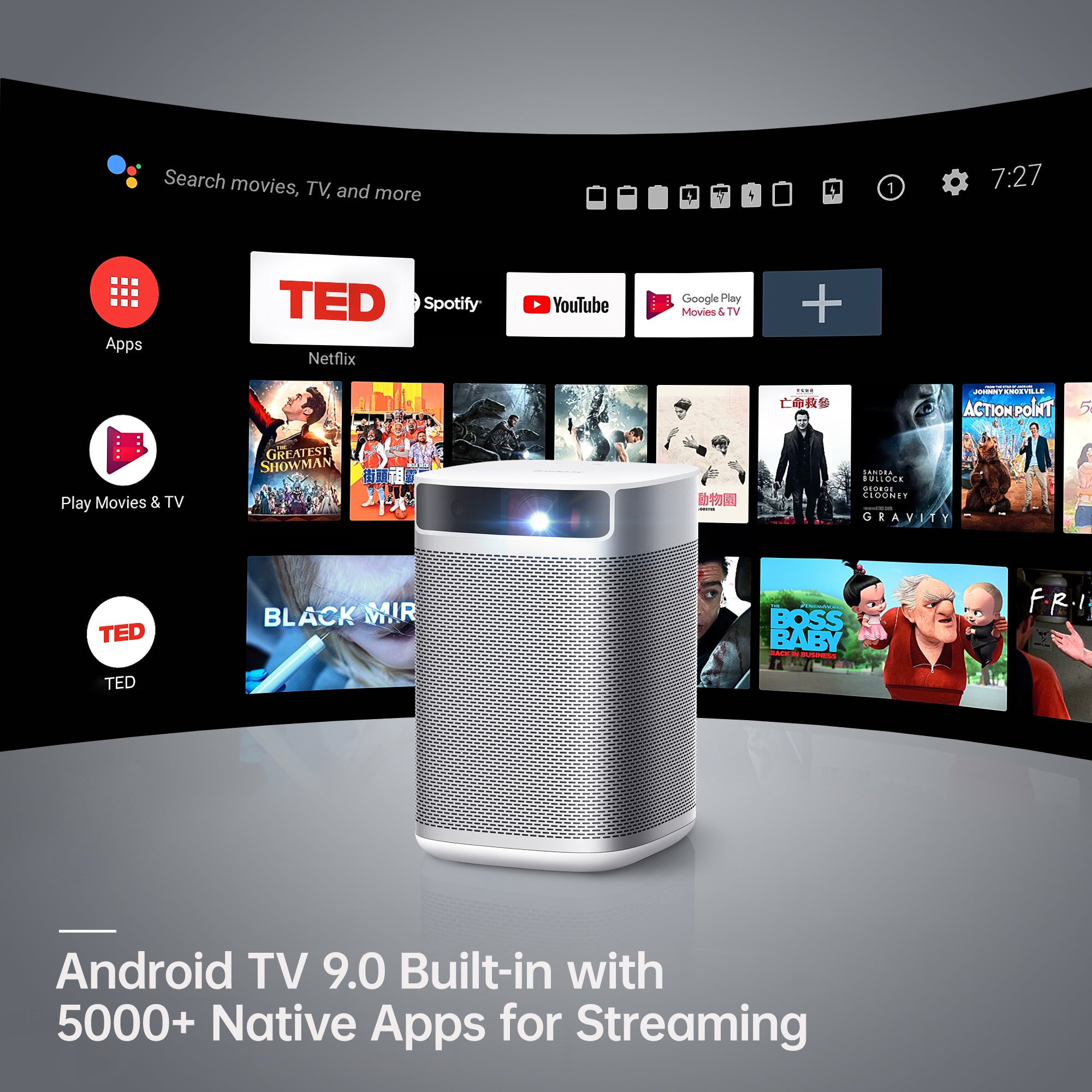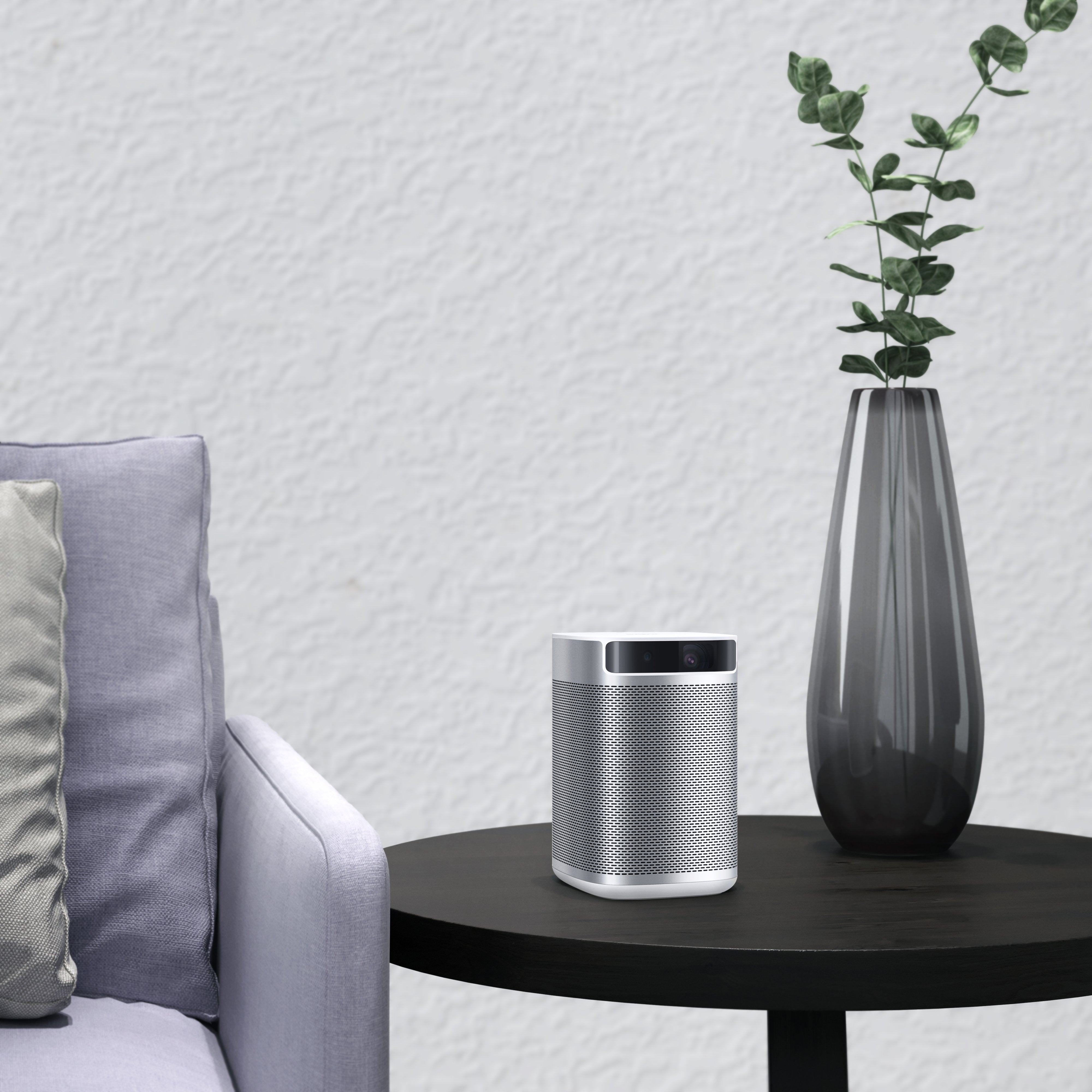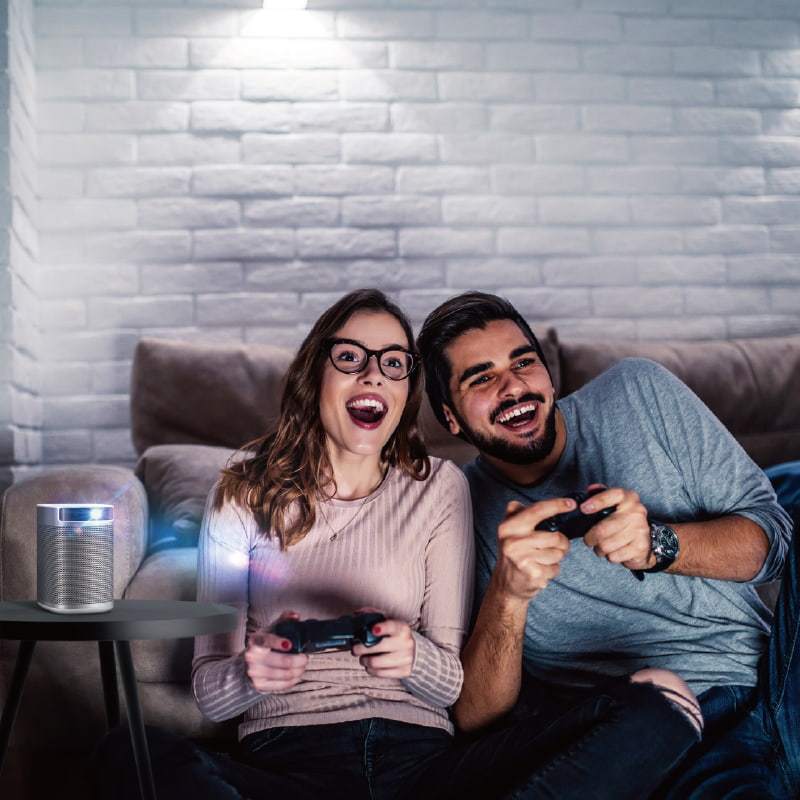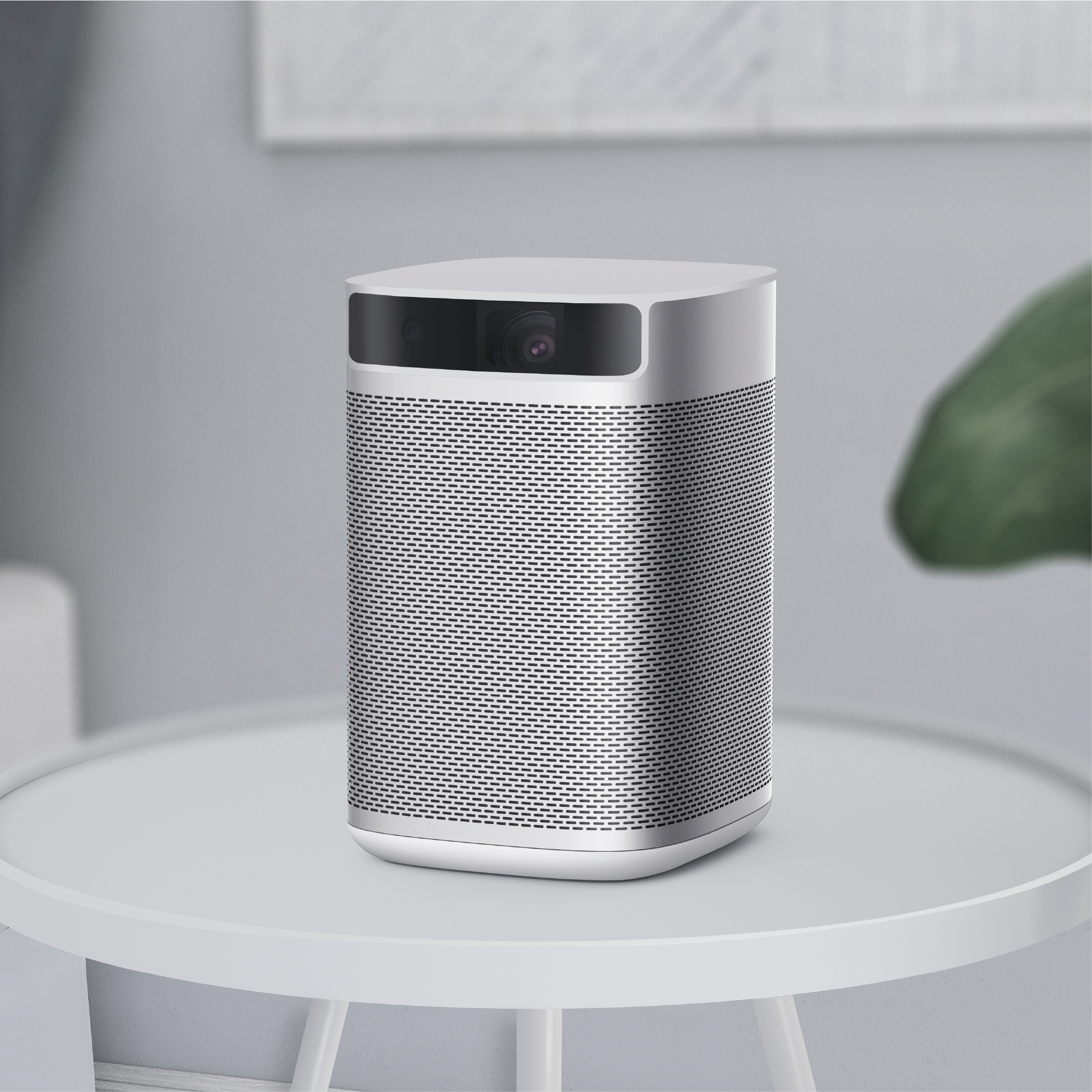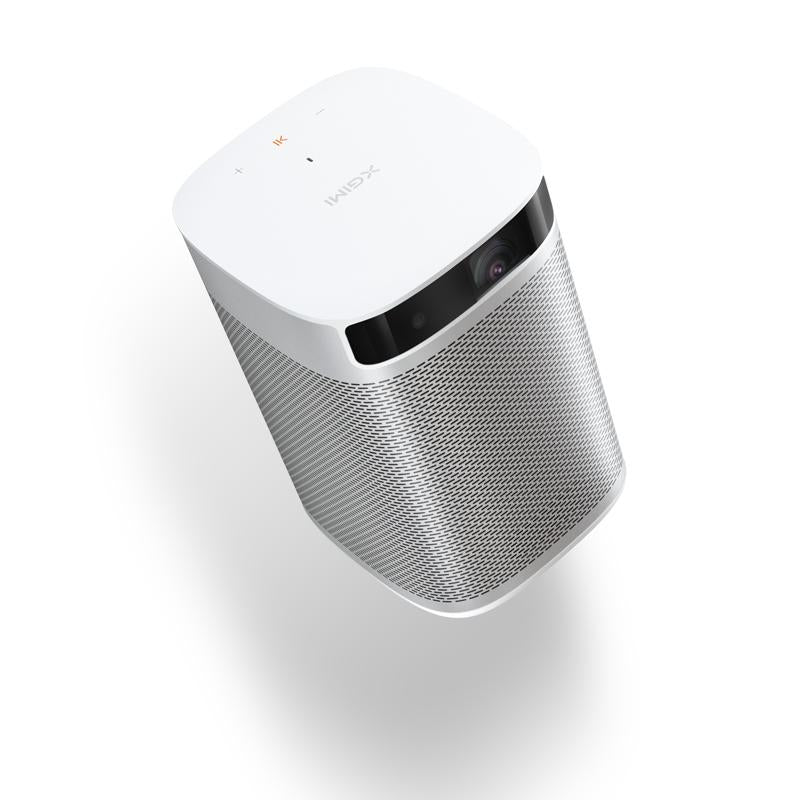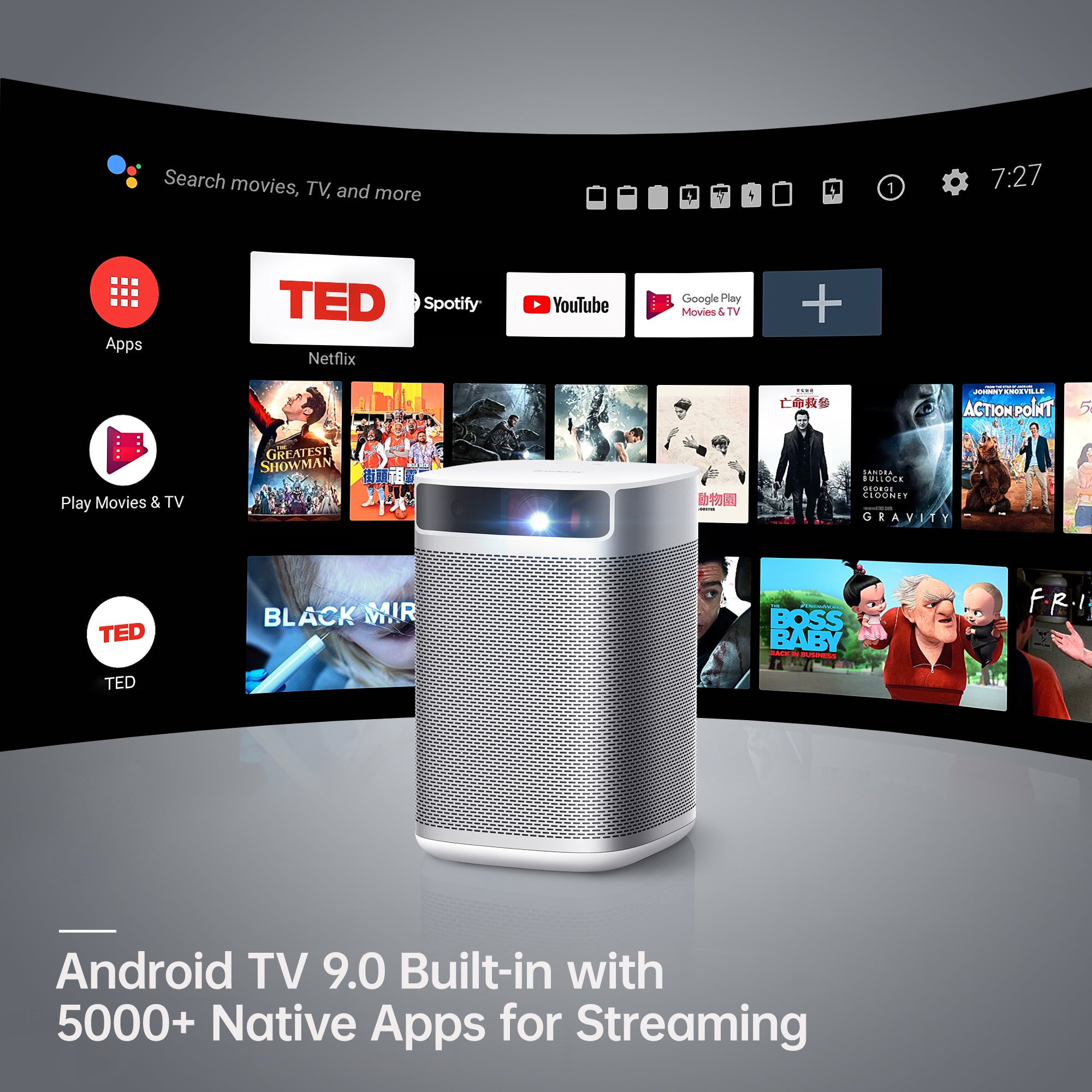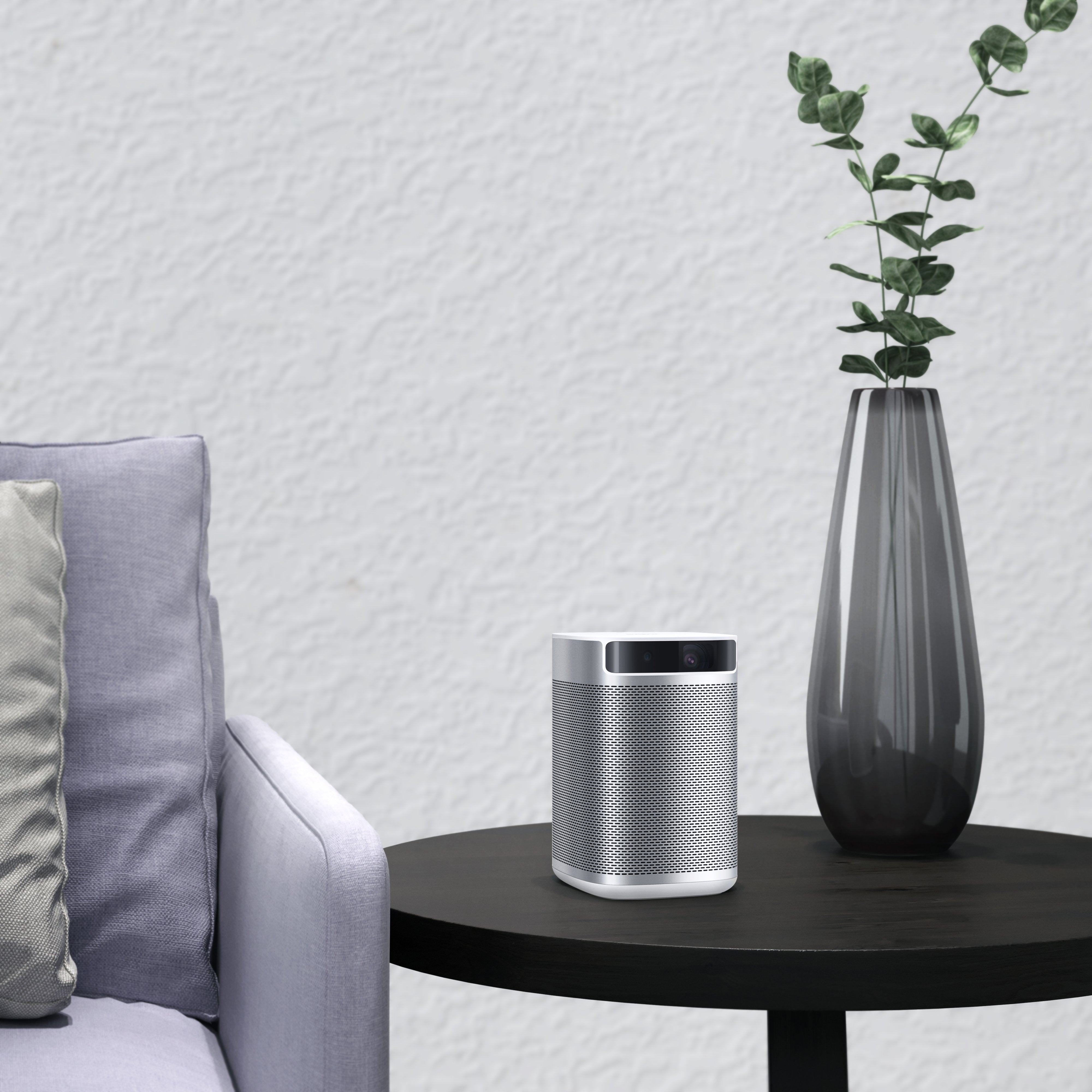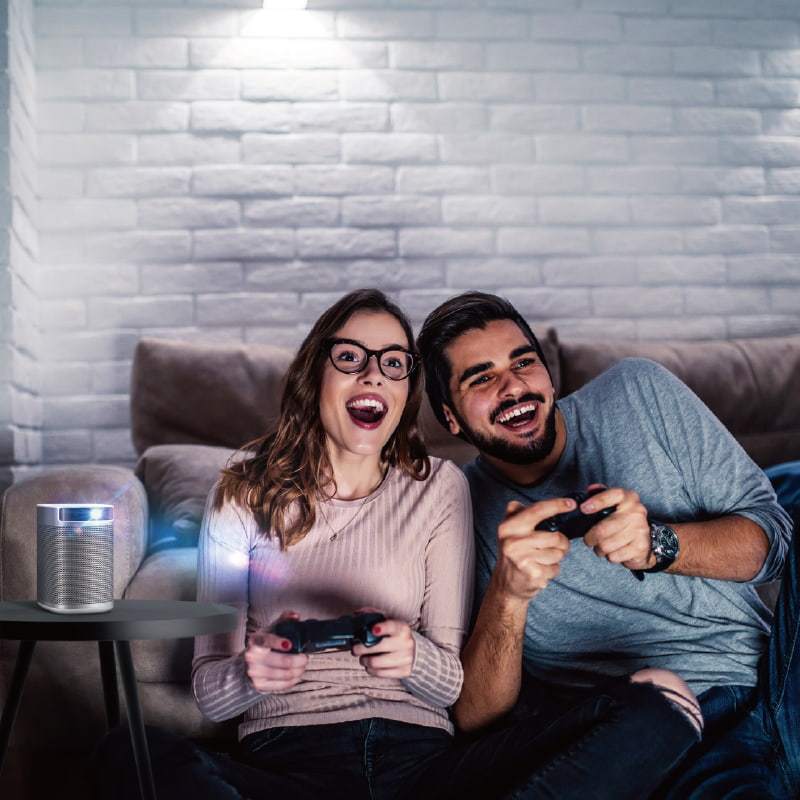 Conclusion
Portable projectors are relatively lightweight products, easy to transport, and ideal for camping trips and outdoor experiences. They can deliver a truly cinematic experience in outdoor locations as they come with powerful features like 1080p resolution, excellent sound, and a widescreen display.

XGIMI Halo and MoGo Pro are two excellent portable projectors that can deliver an ideal outdoor movie night experience. They are 1080p projectors capable of delivering excellent image quality, powerful reverberating sound from Harman Kardon speakers, and brightness of up to 600 ISO Lumens. They come with built-in batteries that can stay on for 2–4 hours and a truly lightweight body.
Choosing between Halo and MoGo Pro should be strictly based on customers' needs. Both projectors are great for outdoor cinema settings and have built-in entertainment as they run on Android TV™.
Get €10 off Your Next Purchase
Join the XGIMI Community Today!