How To Setup Your Outdoor Projector
By XGIMI Tech - 2022-01
Whether you are out camping in the woods or with the family in your backyard for a movie night, an outdoor cinema is a great idea and one that is not so difficult to pull off. In setting up an ideal movie night outdoors, a projector is first on the list of things you need. You can get a fair deal on even the most budget-friendly outdoor projectors with excellent picture quality.
For the perfect outdoor projector setup, a suitable projection surface will give the best viewing experience— 1080p resolution works well with screen sizes above 100", depending on the setting, of course. You can also choose to make do with the inbuilt sound system or connect dedicated speakers according to your budget. If you are around external power sources, you could plug in the projector for an uninterrupted experience. If not, the outdoor projector can give you up to 2-4 hours of playing time on the inbuilt battery. Checking off these requirements will provide you with an excellent outdoor cinema experience.
Choosing The Right Projector
Different strokes for different folks, they say. It will help if you consider certain factors when looking to buy an outdoor projector. Your choice of product will determine the projector setup location. Rough and uneven ground— in the backyard or camping— will require you to use the projector with a stand. On business trips, you may not have problems finding a suitable spot to mount your projector.
What time of the day you intend to use the projector should also be taken into consideration. If you watch movies in the backyard, with external lighting and noise interference, you need a projector with a bright display (600–900 ANSI lumens) and powerful sound. When camping at night, you need less brightness (200–300 ANSI lumens) and good sound quality.
Also, whatever content you are more likely to project should be factored into your decision to settle for a particular product. For presentations, you need outdoor projectors with brighter displays. If 4K movies dominate your playlist, depending on the scenario, you would need to go for options with excellent display features like 3D support and high-definition graphics (portable projectors with 2K/4K resolution). If the music and sound are of more importance to you, then you should settle for options with excellent inbuilt sound or dedicated speakers.
The XGIMI Halo+ is priced at $849 and would be ideal for those with a high/flexible budget. Weighing an estimated 1.6 kilograms (3.53 pounds), the Halo+ is quite handy and portable. You can achieve a brightness of up to 900 ANSI lumens with the XGIMI Halo+ and 1080p native resolution. XGIMI Halo+ also supports 4K resolution. The portable projector uses a 0.33" DMD graphics chip, and a 59W inbuilt battery ensures lengthy playing time. You can get access to over 5000 apps as Halo+ runs on Android TV™ system. For sound, the projector is fitted with dual 5W Harman Kardon speakers (Dolby Digital Audio, Bluetooth 5.0, DTS-HD/Studio). Harman Kardon sounds provide room-filling audio, and would save you the extra cost of external speakers or soundbars.

XGIMI Halo+ is packed with a ton of advanced features. The HDR10+ display enhances the display with respect to lighting conditions, and the Halo+ X-VUE image engine provides clearer and smoother images with more realistic colors. The MEMC is another outstanding technological feature of the Halo+ projector, delivering images onto the display with little to no blurry effects. Halo+ also features auto screen alignment, autofocus, obstacle avoidance, and auto keystone correction, which can save you the stress of setting up the display manually. You can find more Halo+ features here.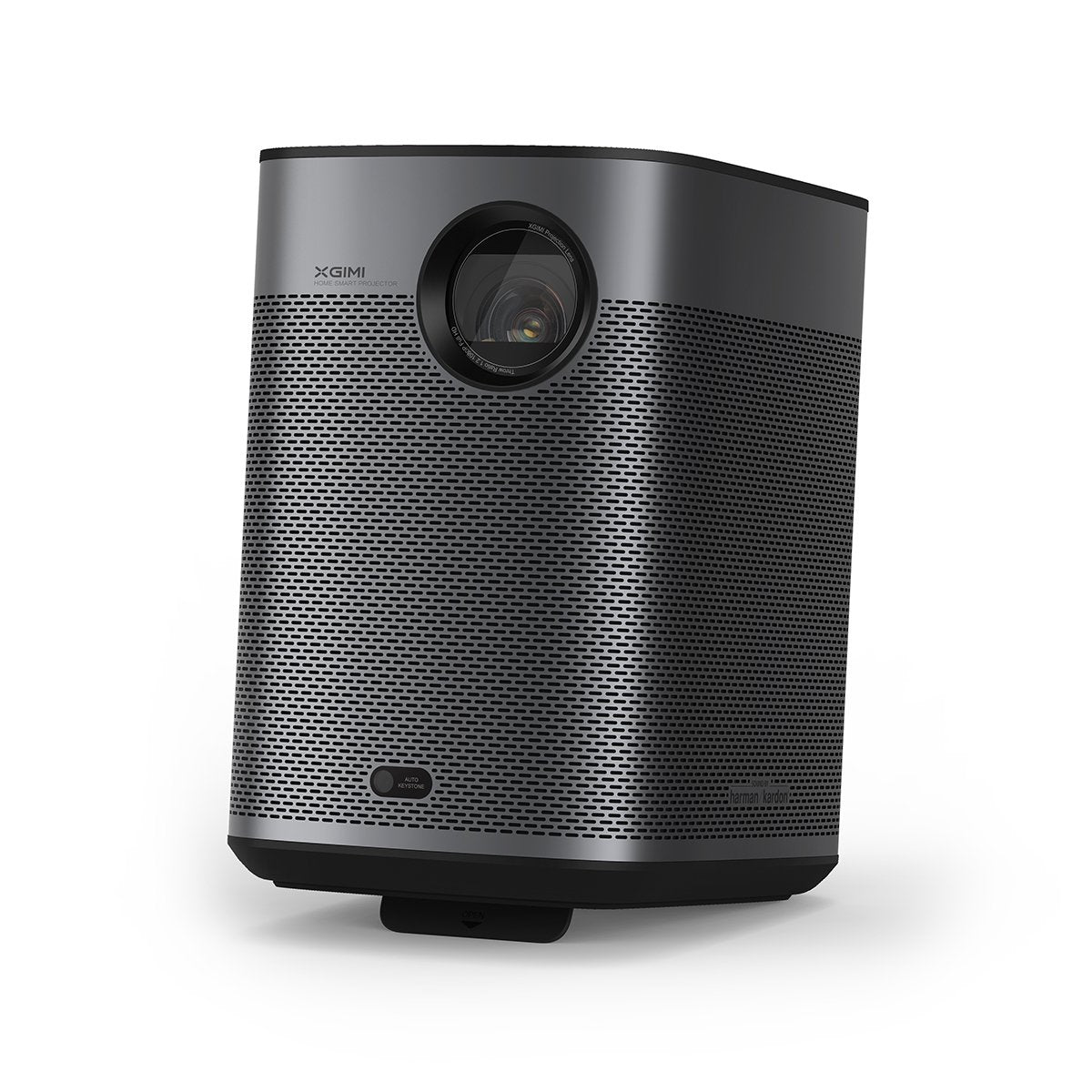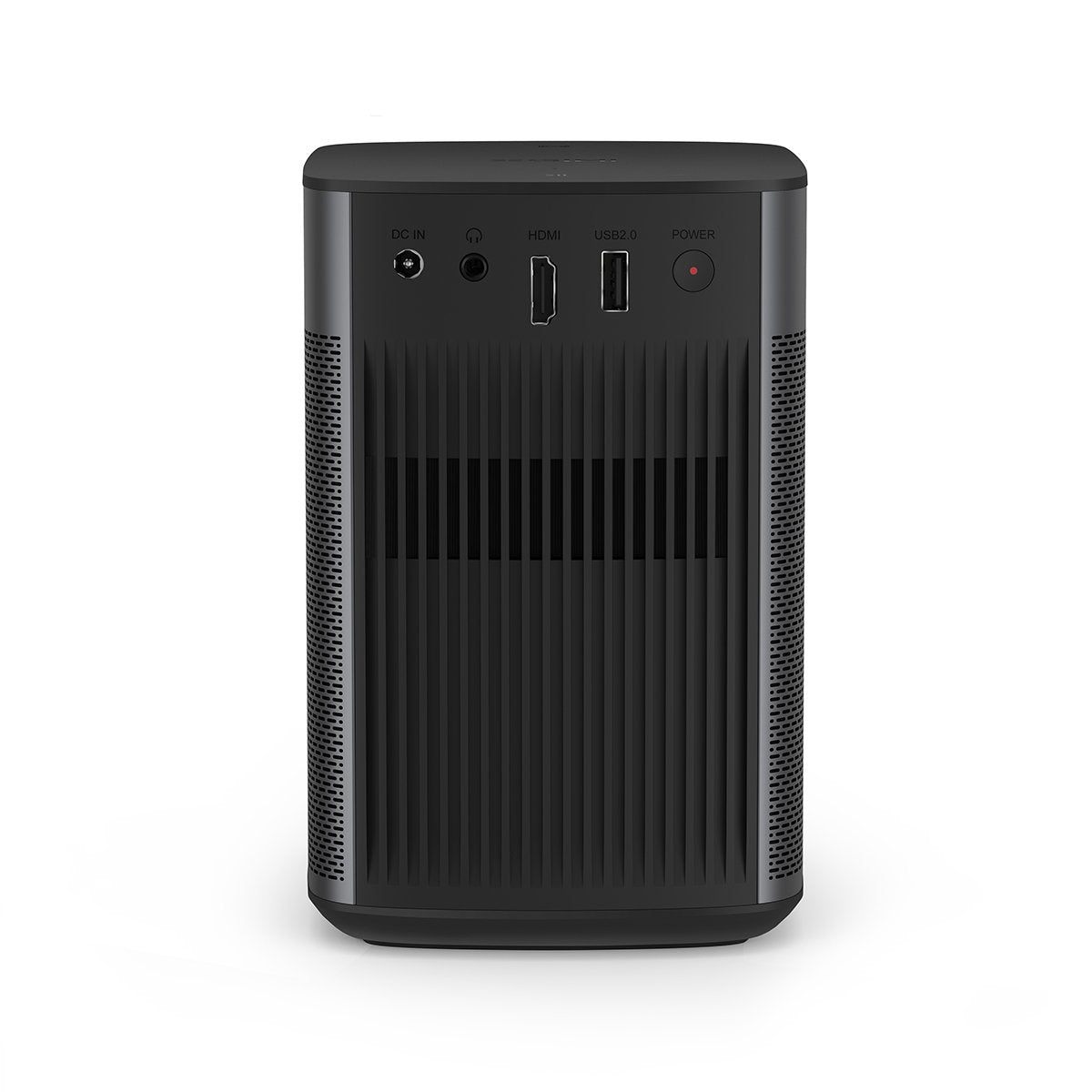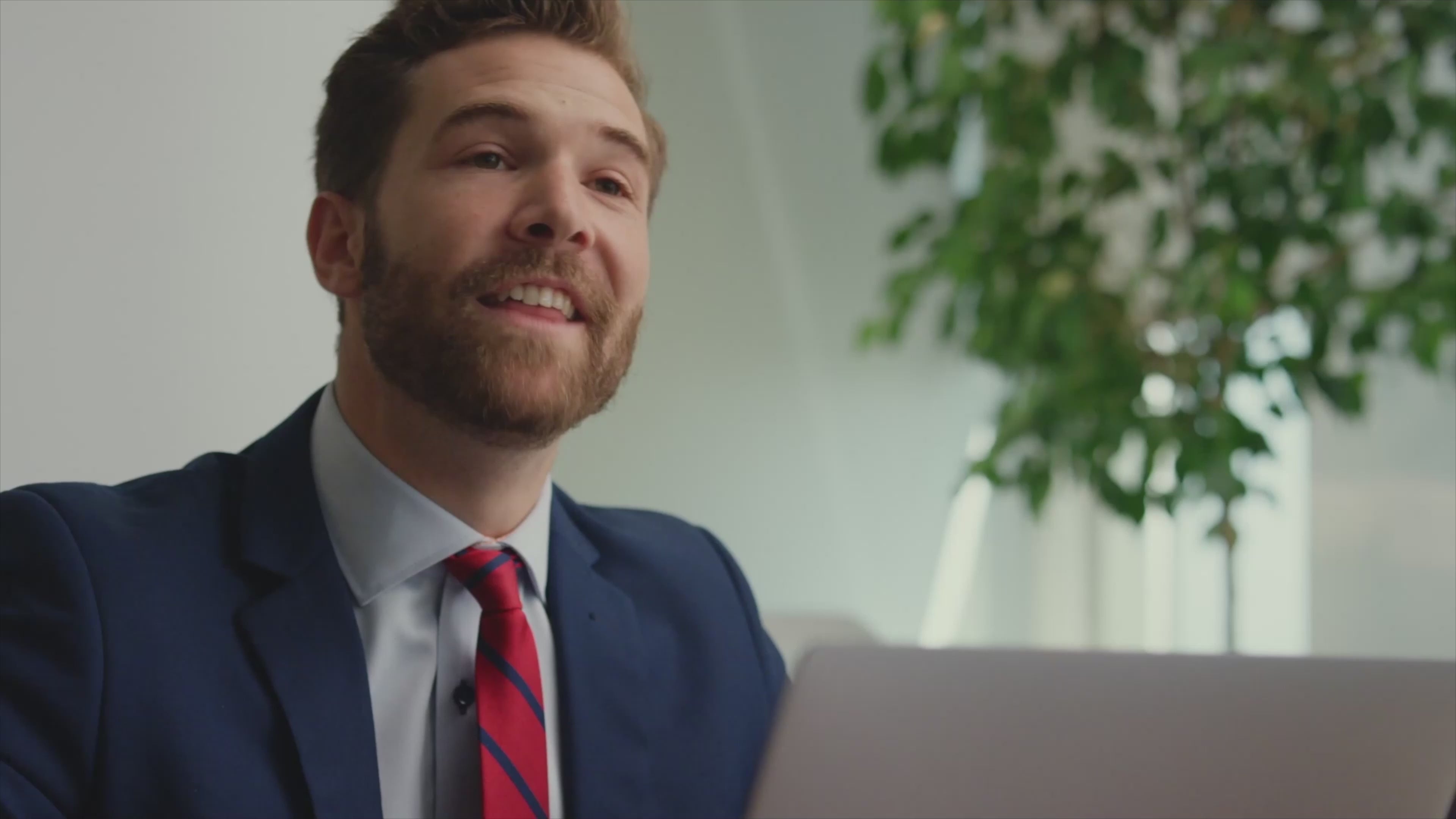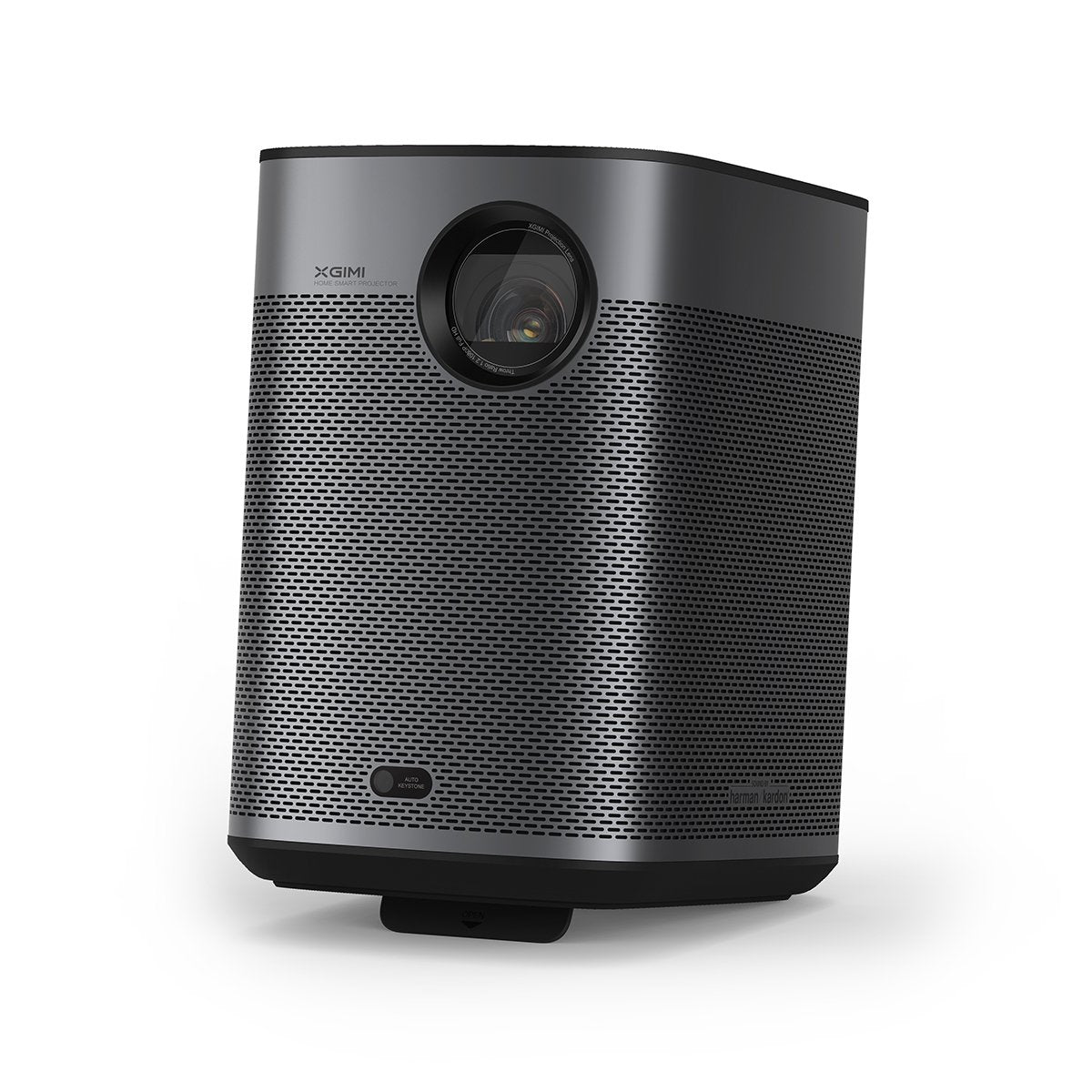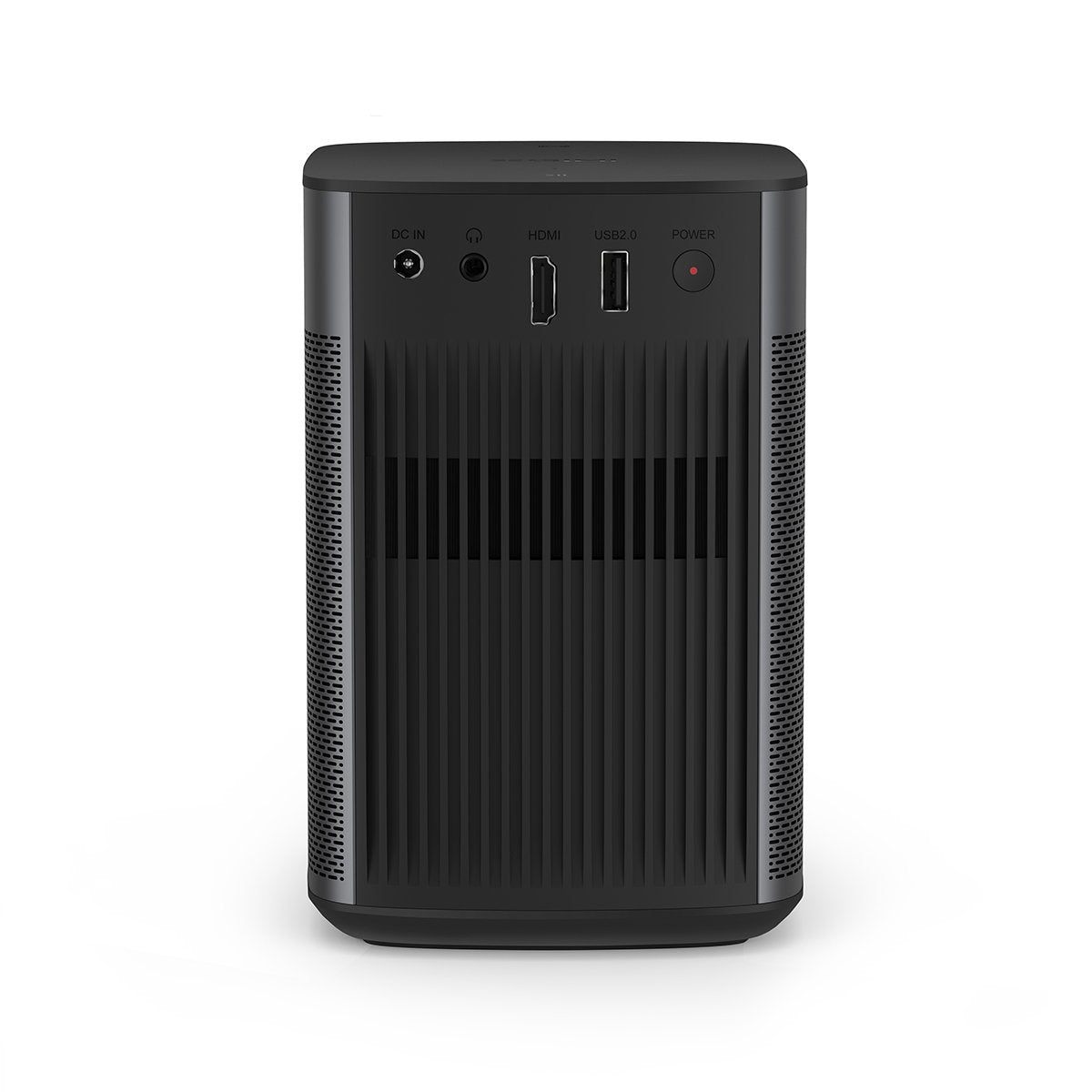 If you have a lower budget for your outdoor projector setup, the XGIMI MoGo Pro is an ideal option priced at $499. The projector features an inbuilt battery that offers up to 2 hours of playing time, autofocus, and up to 40° auto keystone correction. MoGo Pro also has a brightness of up to 300 ANSI lumens, with a DHP lamp delivering a resolution of up to 1080p. For sound, XGIMI MoGo Pro comes with dual 3W Harman Kardon speakers, and a 0.23" DMD display chip ensures top-drawer projection quality.

MoGo Pro runs on an Android TV™ system, giving access to over 5000 applications. The projector weighs a meager 0.9kg and is suitable for those going on camping trips to carry in their bags. Find more about the XGIMI MoGo Pro here.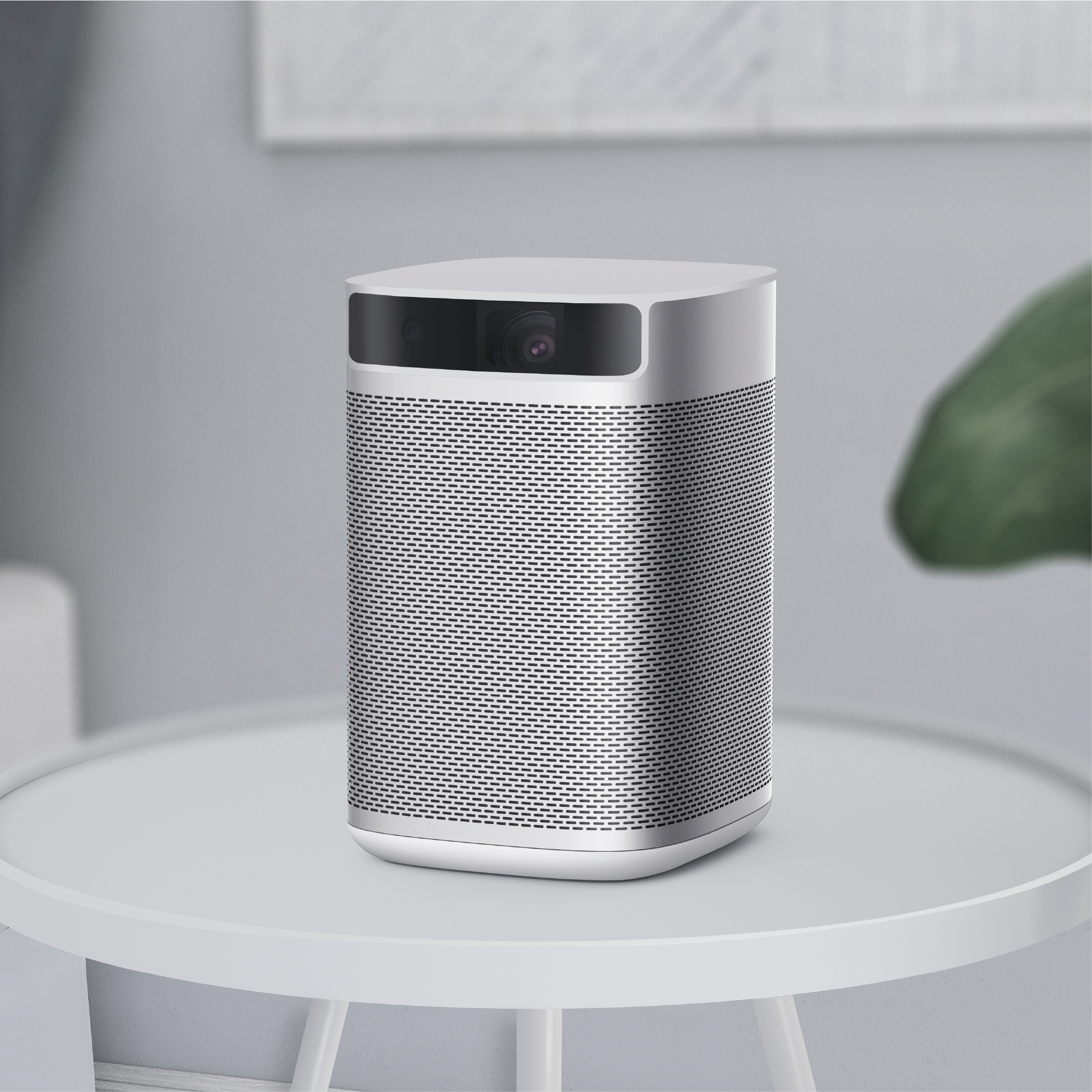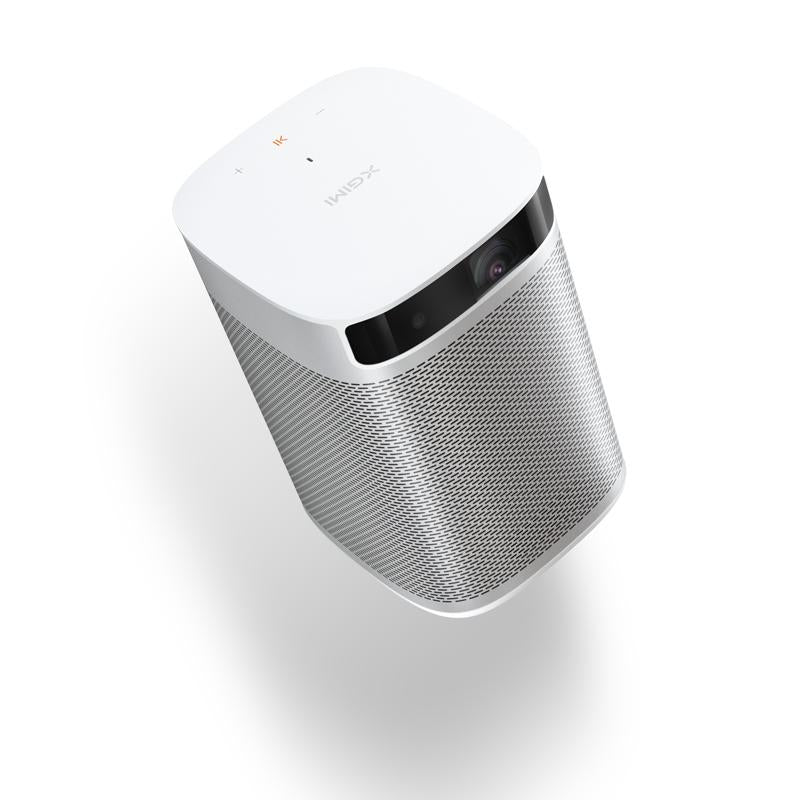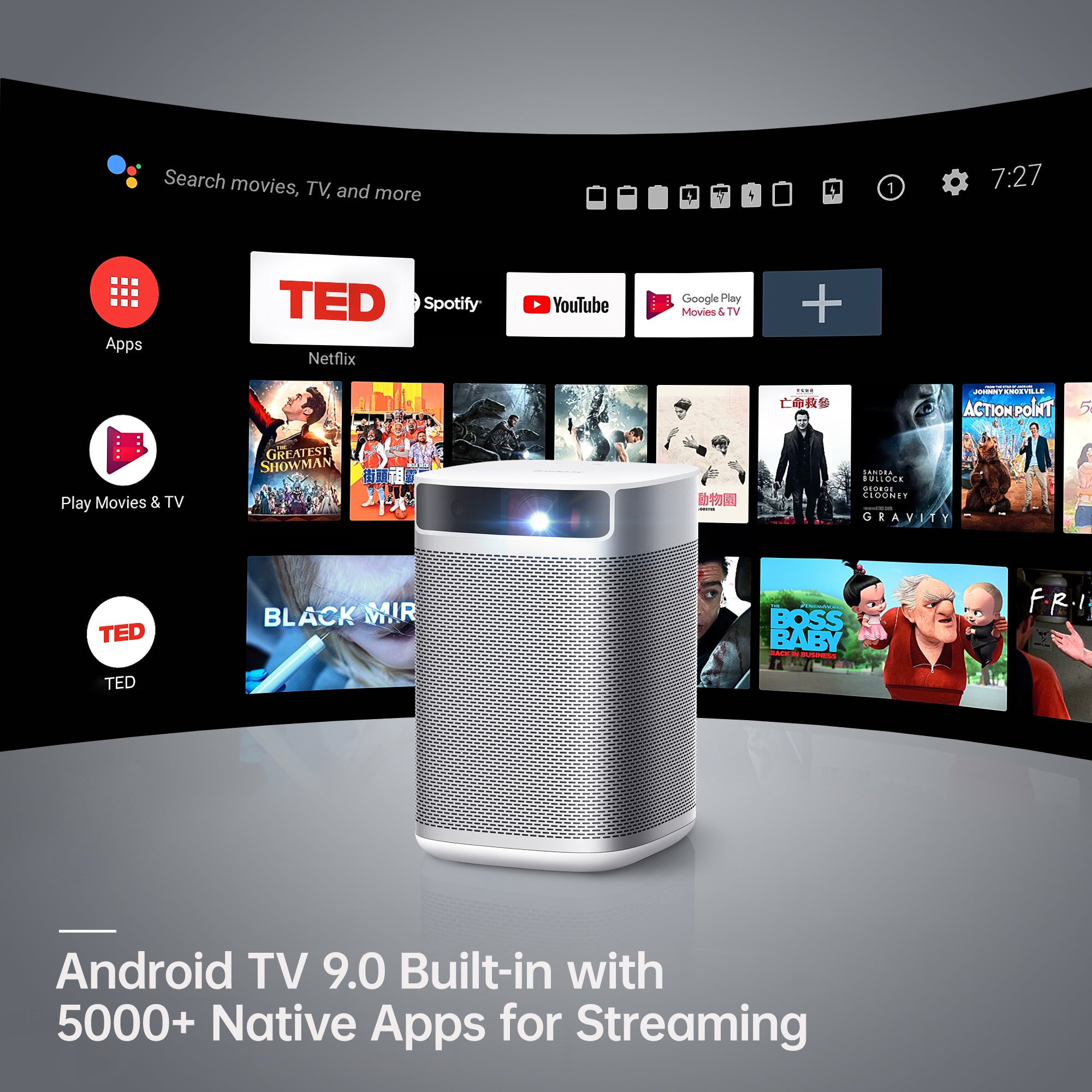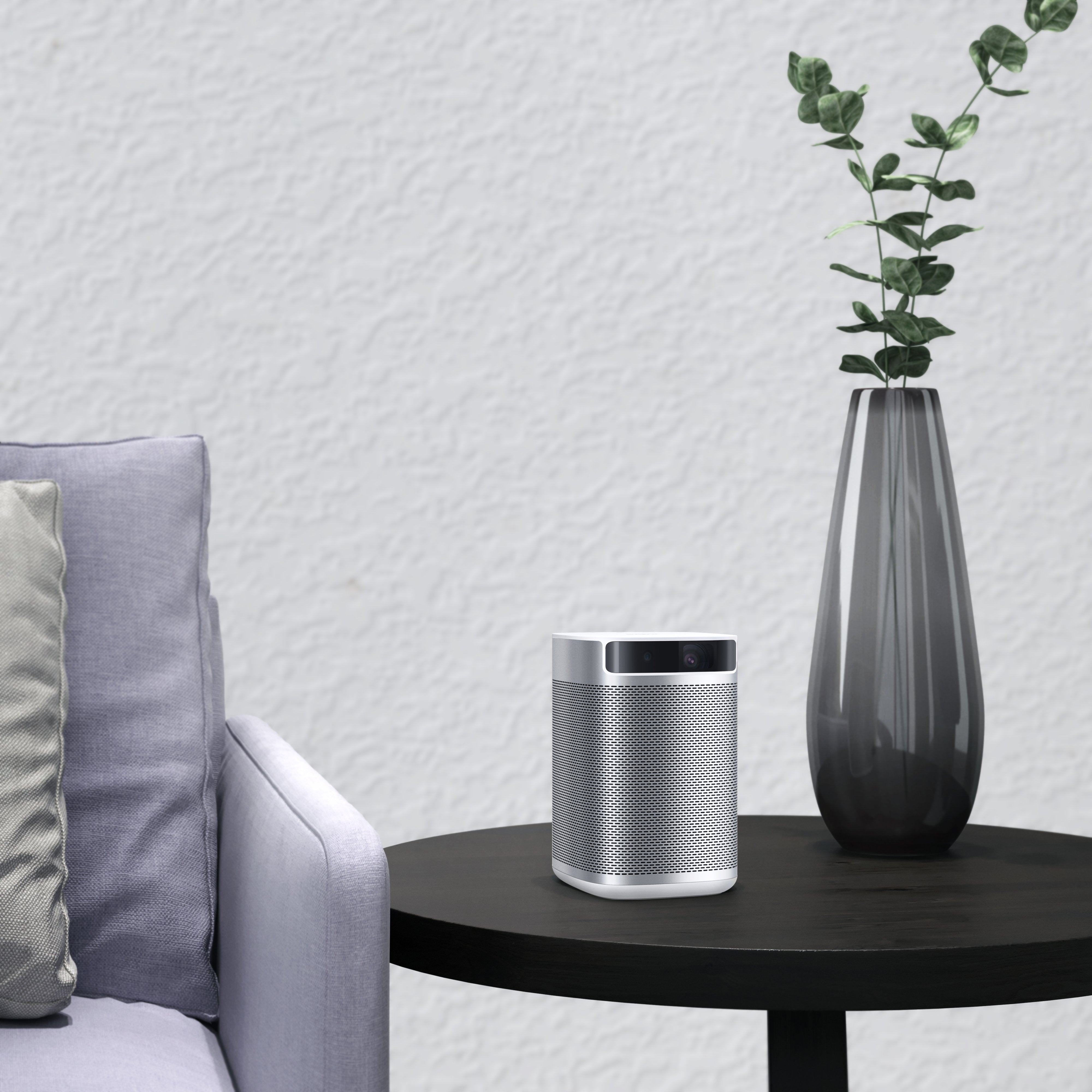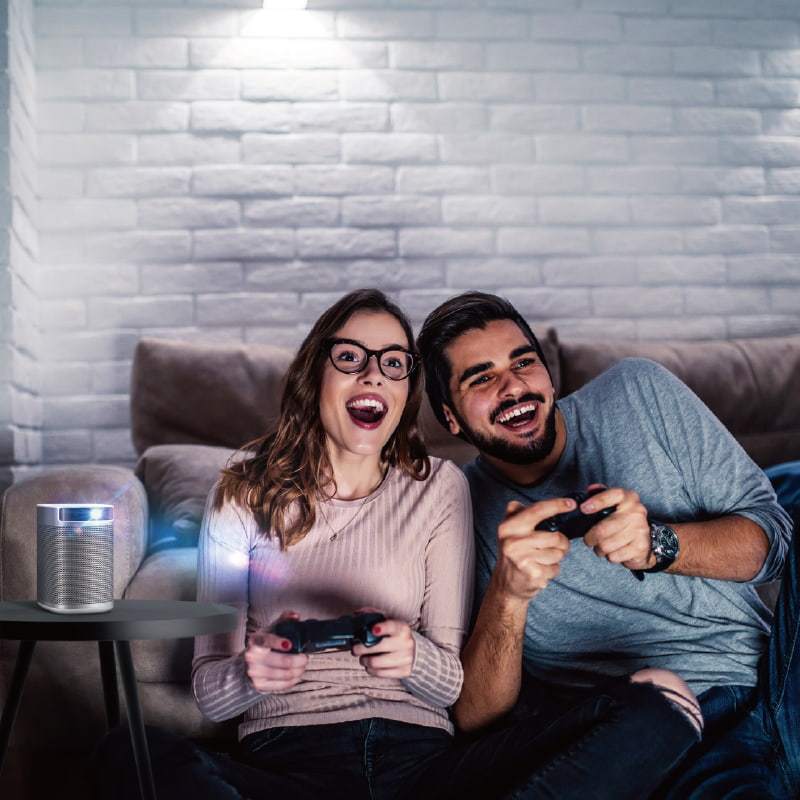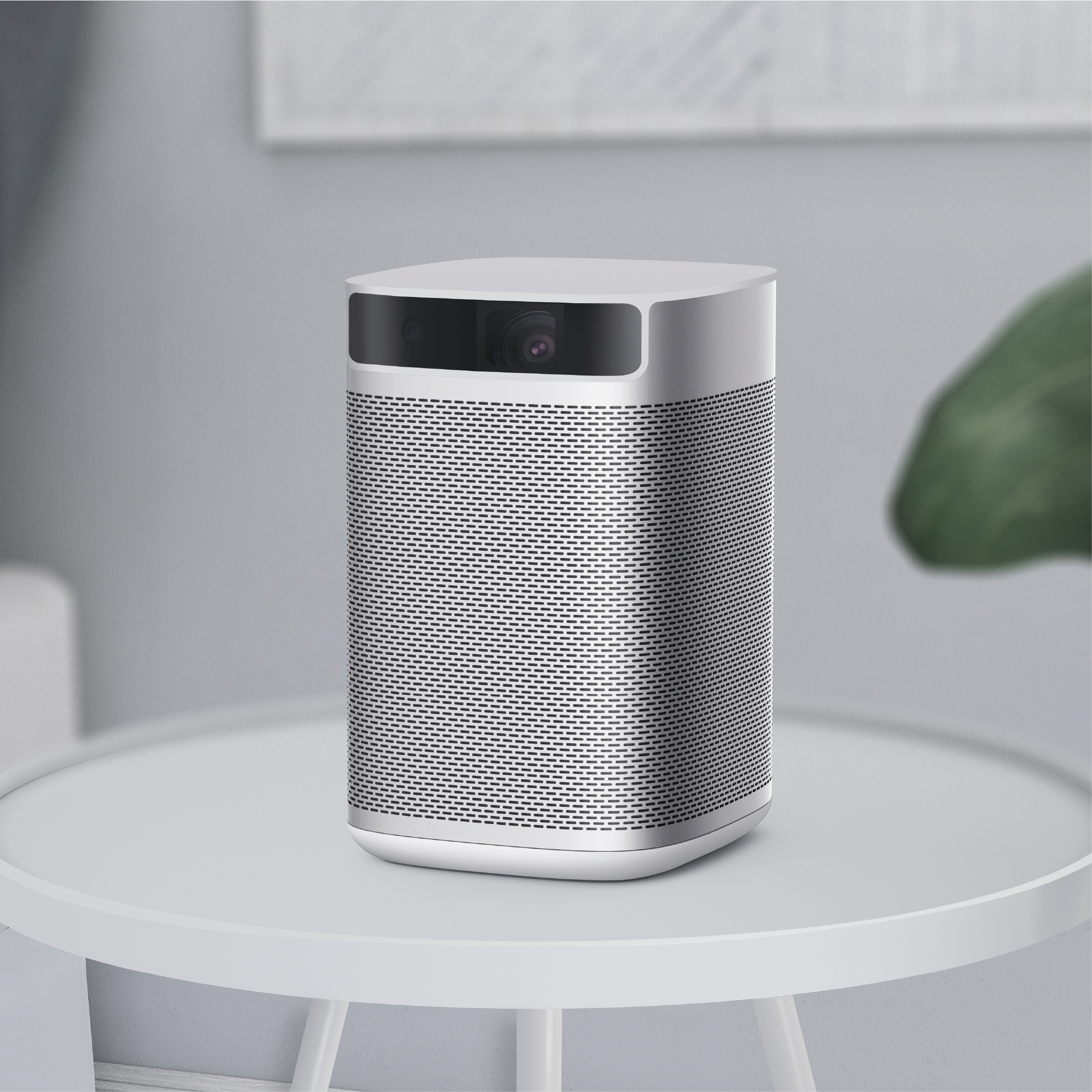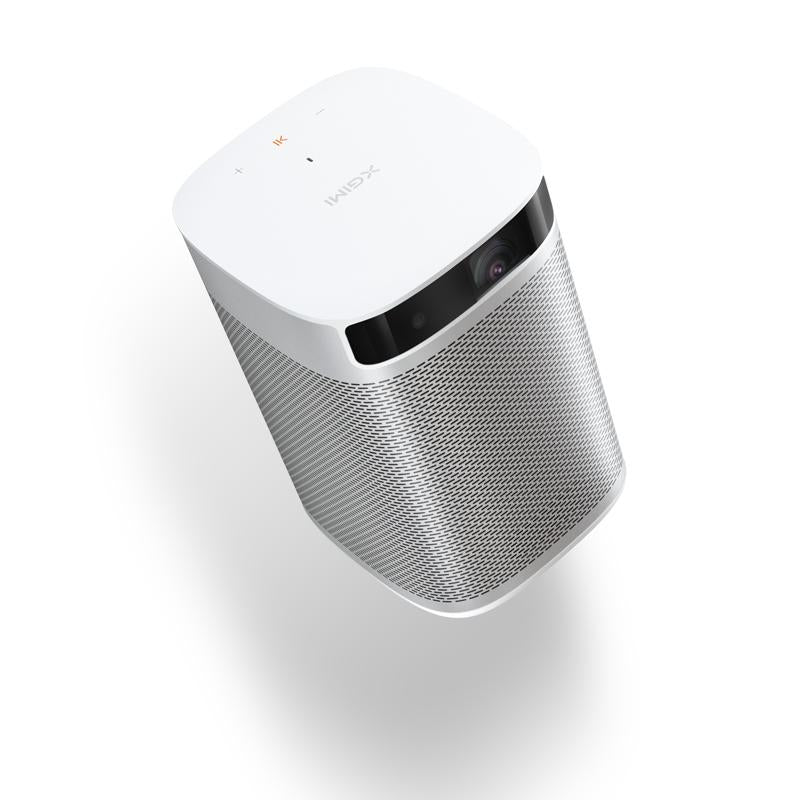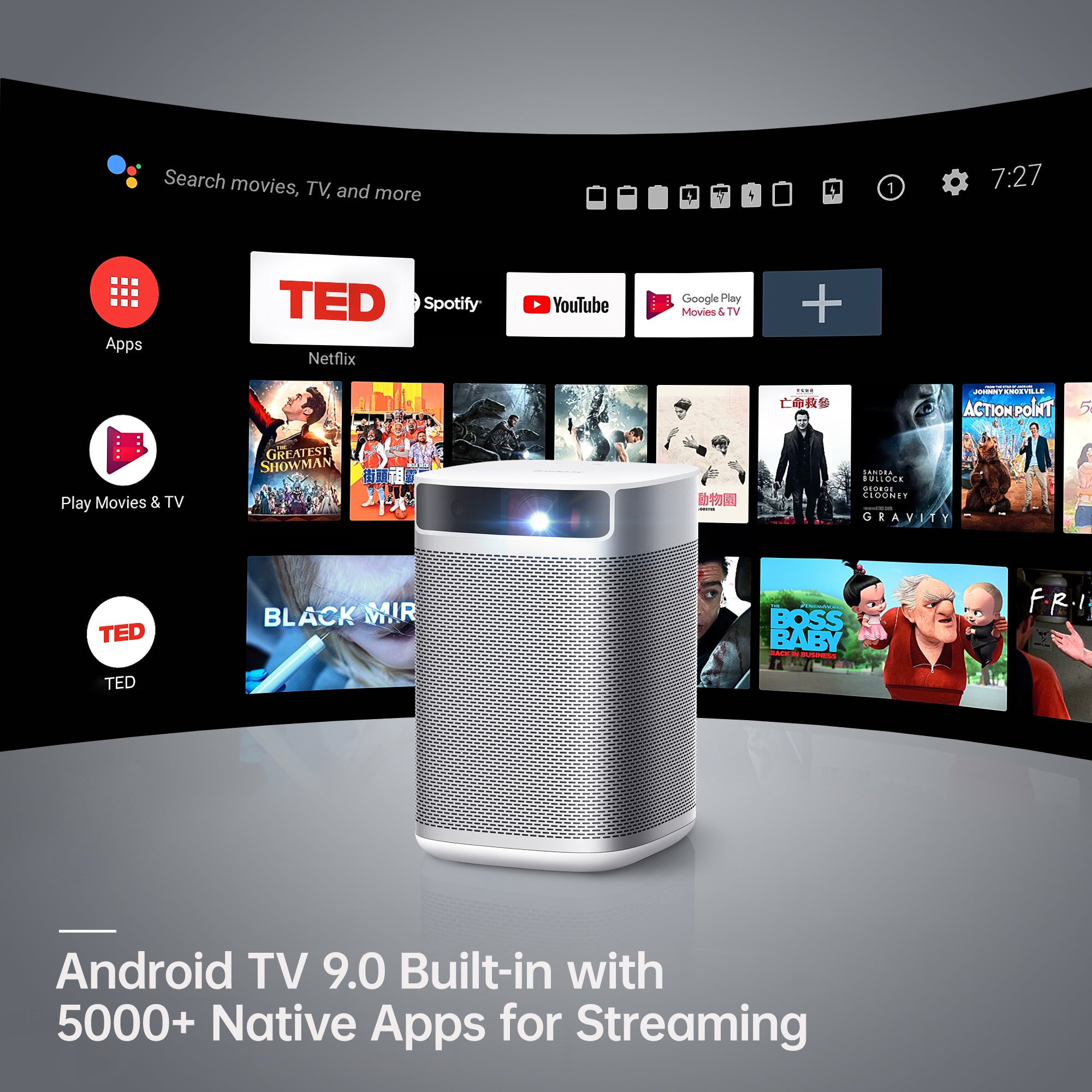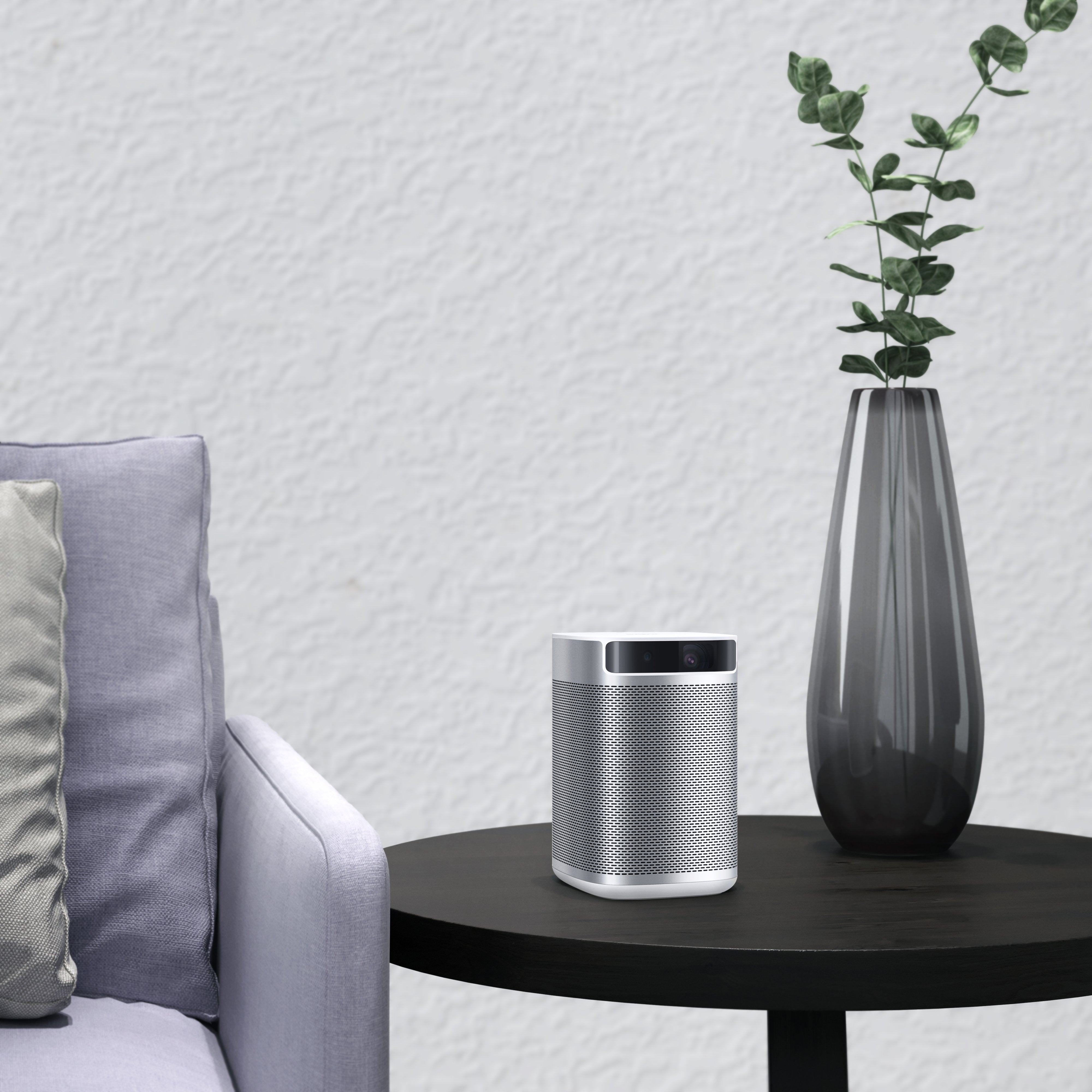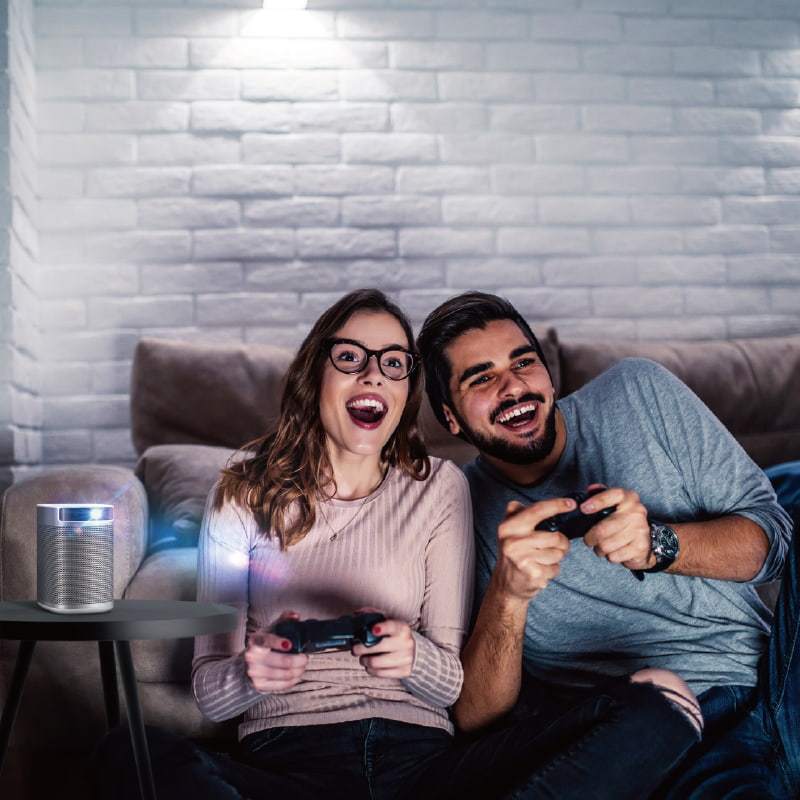 How To Get Content For Projection
In an outdoor projector setup, the setting determines the source of the media you intend to project. If you are in your home, for instance, you can stream digital content directly to the projector. With a strong WiFi connection, the inbuilt Android TV system gives you access to your favorite TV shows, which you can either stream or pre-download and save to watch later.
In other outdoor settings like camping trips where WiFi may not be easily accessible, the outdoor projector comes with connection ports. You can easily plug in your USB flash drive or connect to your mobile device (Chromecast support) to cast video or audio content to the projector. Just pre-download the content, and you are good to go.
Sound Quality
Setting also determines the quality of sound needed to give you the best outdoor projection experience. If you are out camping or in places with less noise interference like business meetings, the projector's built-in speakers should provide sufficient sound for the occasion.
For movies in the backyard, noise interference is unavoidable— you cannot possibly stop cars from driving past. In such instances, you could resort to connecting dedicated and larger speakers for a better experience.
XGIMI projectors come with Harman Kardon speakers fitted with Dolby Digital Audio, and can provide outstanding sound quality in most outdoor settings.
Choosing The Right Projection Screen
Choosing the right surface to project on depends on the setting. In camping and movie night settings, using a foldable projector screen (above 100") is an ideal option. You must endeavor to get the distance between the screen and the projector right, so it would help if you adjust the screen to get a perfect display. Note also that external lights may interfere with projection quality.
In a business presentation setting, a projector screen may not be readily available. You can use a white or plain-colored wall for projection, and make sure to reduce the lighting in the room.
Power Sources For Your Projector
In settings around the home or offices like business meetings and movie nights, power will be readily available. Connect your projector to an external power source to prevent interruptions and ensure you enjoy your content for as long as you want.
When you are out camping or on a road trip, a power source may not be within reach. XGIMI projectors come with a built-in battery that can give up to 2 hours of projecting time. Ensure your projector is on a full charge to get the maximum satisfaction (up to 2 hours of playing time) when streaming without an external power source.
How To Setup Your Outdoor Projector
● Power on the projector, after setting it up on a mount, table, or in your preferred position.
● Connect to WiFi, if available, plug in your USB flash disk, or connect to your mobile device through the HDMI port.
● If an external power source is available, connect the projector to it. If not, XGIMI portable projectors can provide up to 2 hours of viewing time.
● Set up the display screen at an ideal position and focus the image on the screen. The XGIMI Halo+ and MoGo Pro feature autofocus.
● Ensure that the screen size aligns with the projected display. The ISA technology of XGIMI projectors automatically aligns the display to the screen size after powering on, saving you the time and effort of setting the alignment manually.
● If the setting allows noise interference, connect the external speakers for the best experience. XGIMI projectors are fitted with speakers designed by Harman Kardon, and can give you the best sound quality in any setting.
● Browse through the content varieties (videos, music, presentations), click on your preferred option, sit back and enjoy.
Conclusion
Setting up an outdoor projector can be less stressful when you do it right. First, you should choose the ideal outdoor projector that meets your priority needs. Consider the pricing, the preferred setting (outdoor cinema, business presentation, etc), sound, and other factors before making a purchase.
Next, find a proper surface to project on— a projector screen or a white-colored wall should be sufficient— and a balanced surface to mount the projector. Connect the device to an external power source if available, and external speakers if you need them. Choose the content you want to project and begin.
The XGIMI Halo+ is an excellent outdoor projector recommendation for you if you have a considerable budget. The ISA technology that Halo+ features saves you time by automatically aligning your screen to the projected display within six seconds.
XGIMI MoGo Pro is another outdoor projector that this review recommends. Even with its budget-friendly pricing, MoGo Pro offers a high-resolution display of up to 1080p, excellent sound quality with built-in dual Harman Kardon speakers, and an autofocus functionality that eliminates blurry images.
Get €10 off Your Next Purchase
Join the XGIMI Community Today!