What Do You Need For
An Awesome Camping Experience?
By XGIMI Tech - 2022-04
Introduction
Camping never gets old, and with tons of activities and ideas that add variety, a camping experience with friends and family is hardly a tedious event. You can be sure of getting good laughs out in the quiet camping spots far away from the noise and soot common in cities.
Several camping accessories and activities are necessary for your camping experience to be truly memorable. Camping gear like sleeping bags, flashlights, backpacks, meals and snacks, and even cooking utensils come in handy. Fun camping activities like hiking, boat rides, and movie nights can also inject fun into the whole adventure.
If your idea of entertainment during camping is sitting around a fire or in a tent and watching one of your favorite movies, then a camping projector is a must-have. Powerful portable projectors bring a cinematic feel to camping movie nights, allowing you to enjoy your favorite movies with friends and family with excellent imaging and sound. This article explores must-have camping supplies, features of camping projectors that guarantee user satisfaction, and portable projector suggestions that can elevate your camping experience.
What To Bring On Your Next Camping Trip?
The following camping gear items are must-haves for an ideal camping adventure:
Sleeping Bags:

Sleeping bags are the standard for most campers today. They offer warmth, especially in lower temperatures, and can add extra comfort to your camping experience.

Tent:

Campers suffer exposure to rain, winds, pests, the sun, and other environmental factors that could ruin their adventure. Tents offer protection while providing some privacy for you and a place to store your camping gear.

Backpack for Hiking:

When hiking, you need a bag with lots of room to carry all your gear and balance the weight evenly.

Hiking Boots and Warm Clothing for Cold Nights:

Regular shoes can be sufficient for hiking, but hiking boots offer more comfort and protection for rougher terrains with lots of mud or creek crossings. They have comfortable insides and padded soles, which provide better ankle coverage and support.

Headlamps/Flashlights:

Headlamps and flashlights are great illumination sources for camping trips. Headlamps are more popular among hikers, who may sometimes require both hands, while handheld flashlights are more suited to use around the tents and give you more control over the beam and its intensity. Handheld flashlights also come in handy during emergencies, and they also cast stronger beams on objects.

Water:

Water is an essential camping supply you need for drinking, cooking, personal hygiene, and cleaning. Hence, it is expedient to come along with clean, potable water.

Sunscreen:

You may experience more exposure to the sun's ultraviolet rays during outdoor adventures. Sunscreen helps protect the skin from overexposure to UV rays that may lead to sunburns and blistering.

Smart Portable Projector:

For entertainment at night, some people subscribe to watching movies, while some may prefer cool, slow music. You can enjoy watching your favorite movies or playing great music outdoors with a portable camping projector.

Meals/Snacks:

The kinds of food you should pack may depend on the length of the trip and the camping activities, but camping meals are generally campfire meals, snacks, and on-the-go meals for hiking and movement-intensive activities.

Cooking Tools/Utensils:

Camping dinners are more fun with freshly cooked, warm food, prepared with cooking utensils like pots, pans, spoons, etc. Cooking tools like stoves, fuel, lighters, etc., are also necessities, depending on the nature of the camping adventure and the weather conditions.
How Camping Projectors Take The Camping Experience To New Heights
Smart camping projectors are excellent sources of entertainment for nighttime use, either in the tent or around the fire. Some have great features that can make watching movies enjoyable, and they take up little space, making them easy to pack and carry. Some outdoor projectors also feature advanced tech that offers a seamless setup and enhances campers' viewing experience. Here are some features of the ideal camping projector to elevate your next camping trip:
Built-in Battery
Portable camping projectors carry their power sources within as built-in batteries. Projectors with a battery life of two to four hours of playing time is sufficient to watch at least one movie on a full charge.
Multiple Connectivity Ports
WiFi may be unavailable in secluded camping spots, so ideal camping projectors have several connection ports like USB, HDMI, and LAN to connect flash drives and computers or facilitate wired internet connections. A 3.5mm audio jack may also be available for connecting headphones.
Easy Setup
Ideal camping projectors have features that make the setup process less stressful. For example, features like auto focus provide a clear and focused display, and auto keystone correction helps users get a rectangular image from a side projection. Some camping projectors also have advanced capabilities like smart screen alignment and intelligent obstacle avoidance.
Ample Internal Storage
As WiFi unavailability is common in campgrounds, portable camping projectors have sizeable internal storage for users to pre-download and save their favorite content to watch a movie without an internet connection. Some portable projectors have up to 16GB of storage space.
Large Display
You can enjoy your favorite movies on a large screen as some portable projectors can produce displays between 30 to 300 inches. However, for an ideal balance between screen size and image quality, most outdoor projectors' recommended display size ranges between 40 to 150 inches.
Excellent Built-in Sound
As external speakers may be deadweight for you to take camping, ideal portable outdoor projectors have built-in speakers that provide excellent, immersive sound to enhance the viewing experience.
Excellent Resolution and Brightness
Portable projectors with native 1080p resolution can deliver high-definition displays with clear graphics and well-defined colors. Bright displays bring the movies to life, helping you see every detail. In addition, the brightness of 300 to 900 ANSI lumens is sufficient for nighttime viewing when camping.
Why Should You Consider Purchasing An XGIMI Camping Projector?
XGIMI Halo+

(1080p Portable Camping Projector)
XGIMI's latest portable projector product, Halo+, is a powerful device with several features that can transform camping movie nights as you know them to be:
● Built-in Battery: Halo+ has a 59W built-in battery that can support about two hours of playing time, giving you sufficient power to watch your favorite movies during camping trips.
● 200-inch Screen: Halo+ can project to fill a maximum 200-inch screen, bringing premium entertainment to users on a large display, and a display of 60-120 inches is ideal for balance between screen size and quality. With widescreen displays, you can enjoy an immersive viewing experience and see every detail.
● 1080p Resolution/900 ANSI Lumens: XGIMI Halo+ supports native 1080p resolution for a smooth and clear image and brightness of 900 ANSI lumens, ensuring a well-illuminated display during camping movie nights.
● Harman Kardon Sound: Halo+ is fitted with dual 8W Harman Kardon speakers, which produce rich and clear sound during camping movie nights, allowing you to appreciate your favorite movies outdoors without losing sound to the winds.
● X-VUE 2.0 Image Engine: Clear and lifelike colors make watching movies more entertaining and captivating, and the X-VUE 2.0 Image Engine achieves color revivification for clearer, richer, and more pronounced colors.
● Intelligent Screen Adaptation (ISA) Technology: The ISA technology feature on Halo+ facilitates seamless setup. Intelligent screen alignment ensures the display fits the projector screen, and auto keystone correction delivers a rectangular image. In addition, obstacle avoidance ensures the display is free of interfering objects, and auto focus provides a sharp and clear picture.
● 2GB/16GB Storage Space: XGIMI Halo+ has 2GB RAM and 16GB ROM, offering ample storage space for your favorite movies, music, and TV shows. You can watch pre-downloaded content if WiFi is unavailable.
Learn more about XGIMI Halo+ here.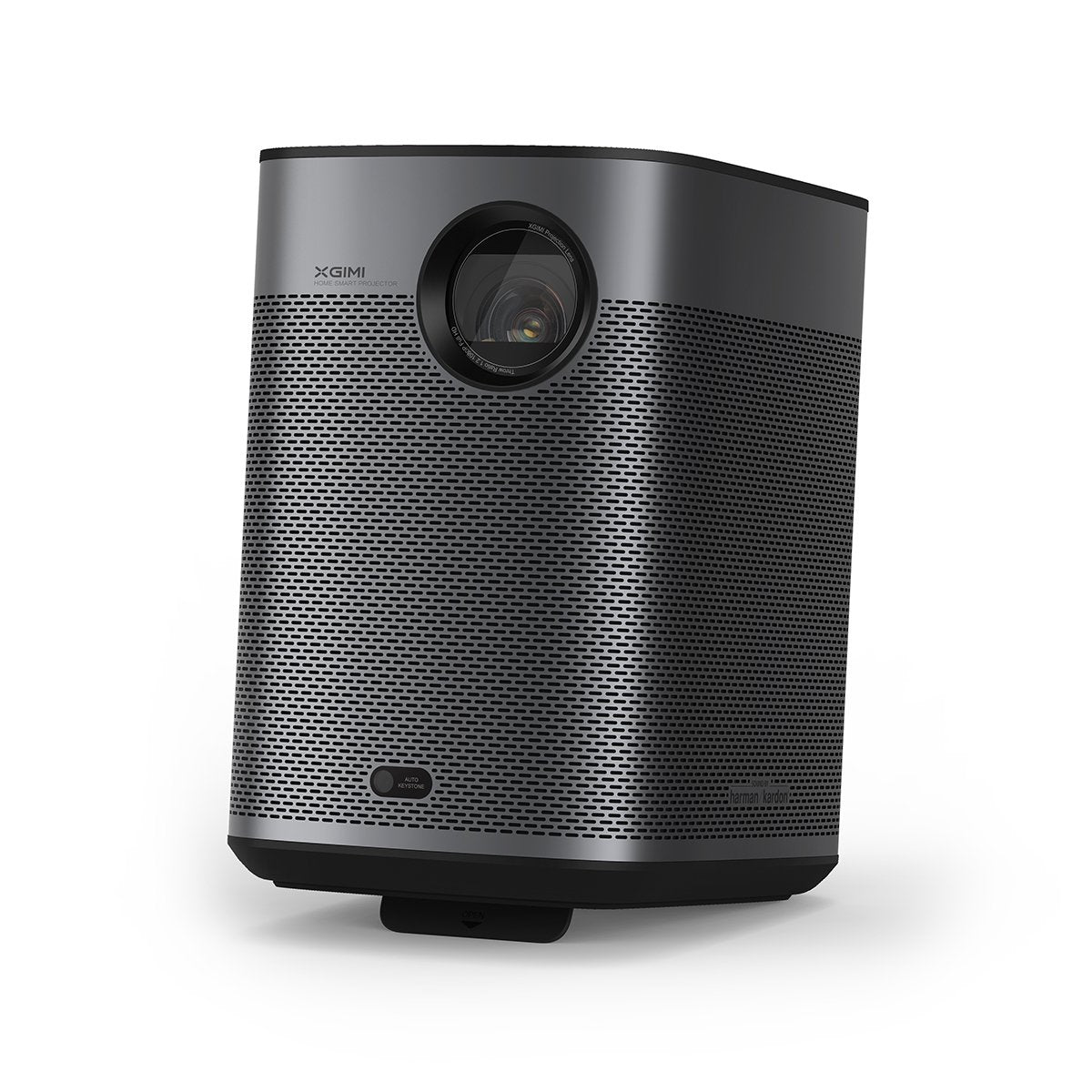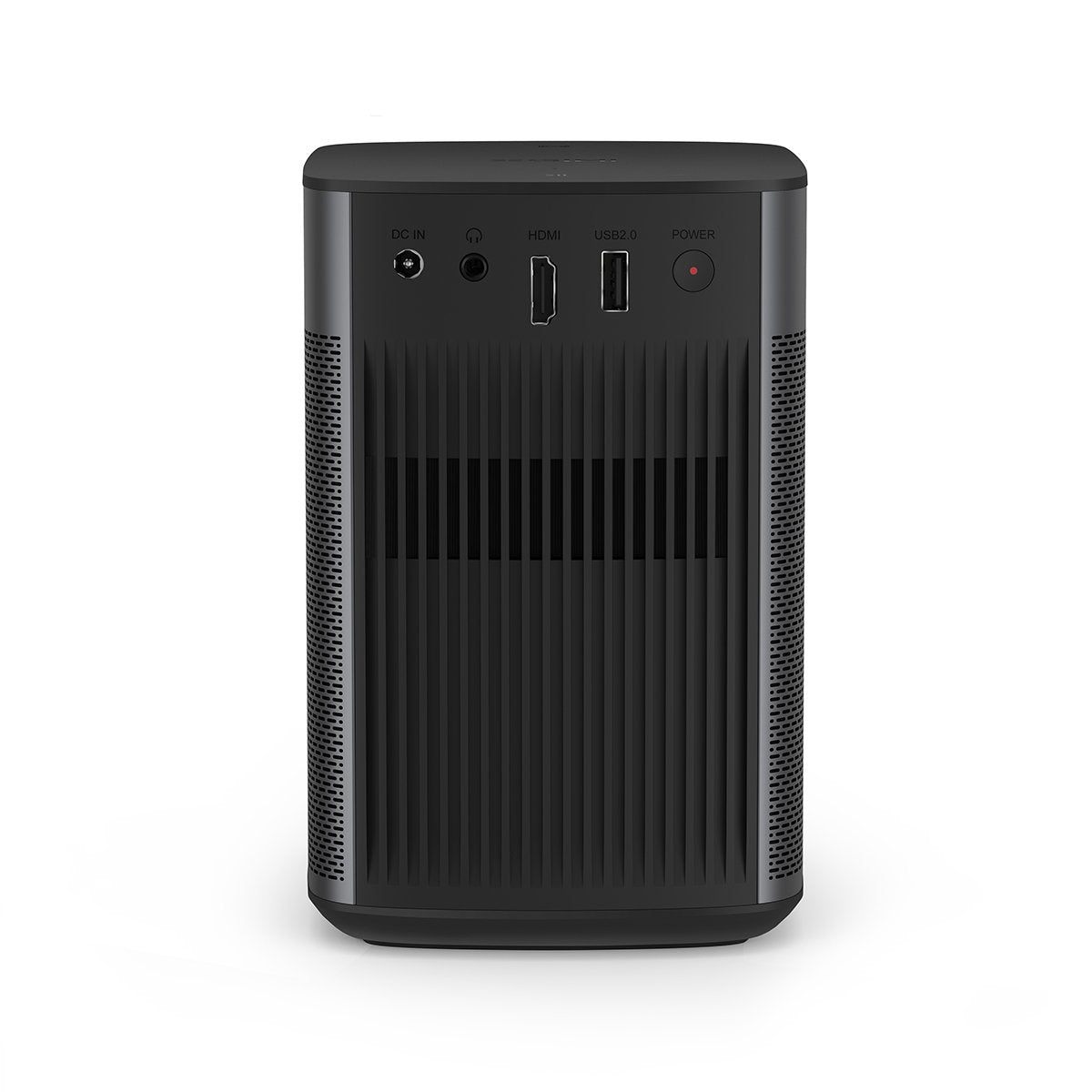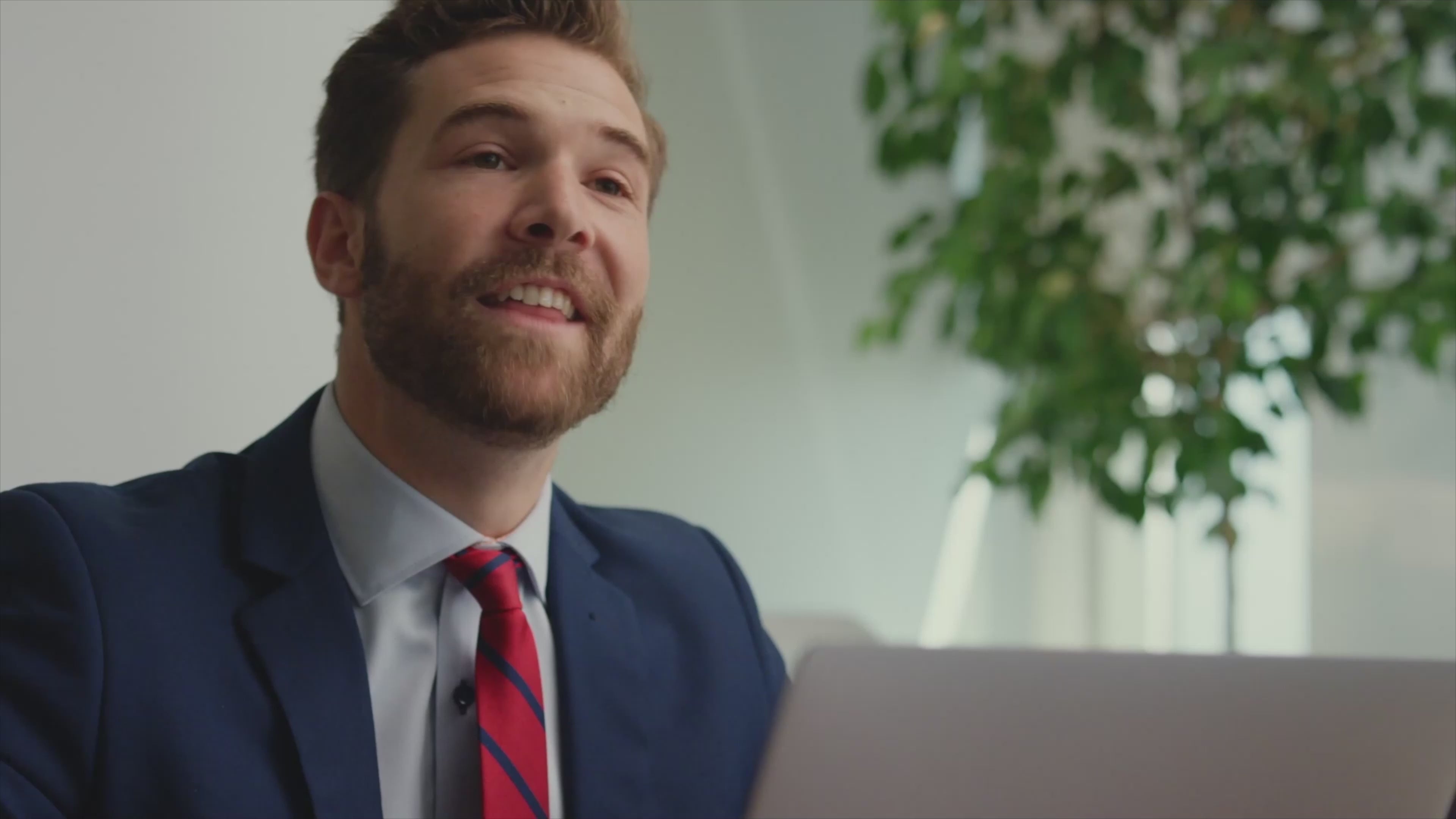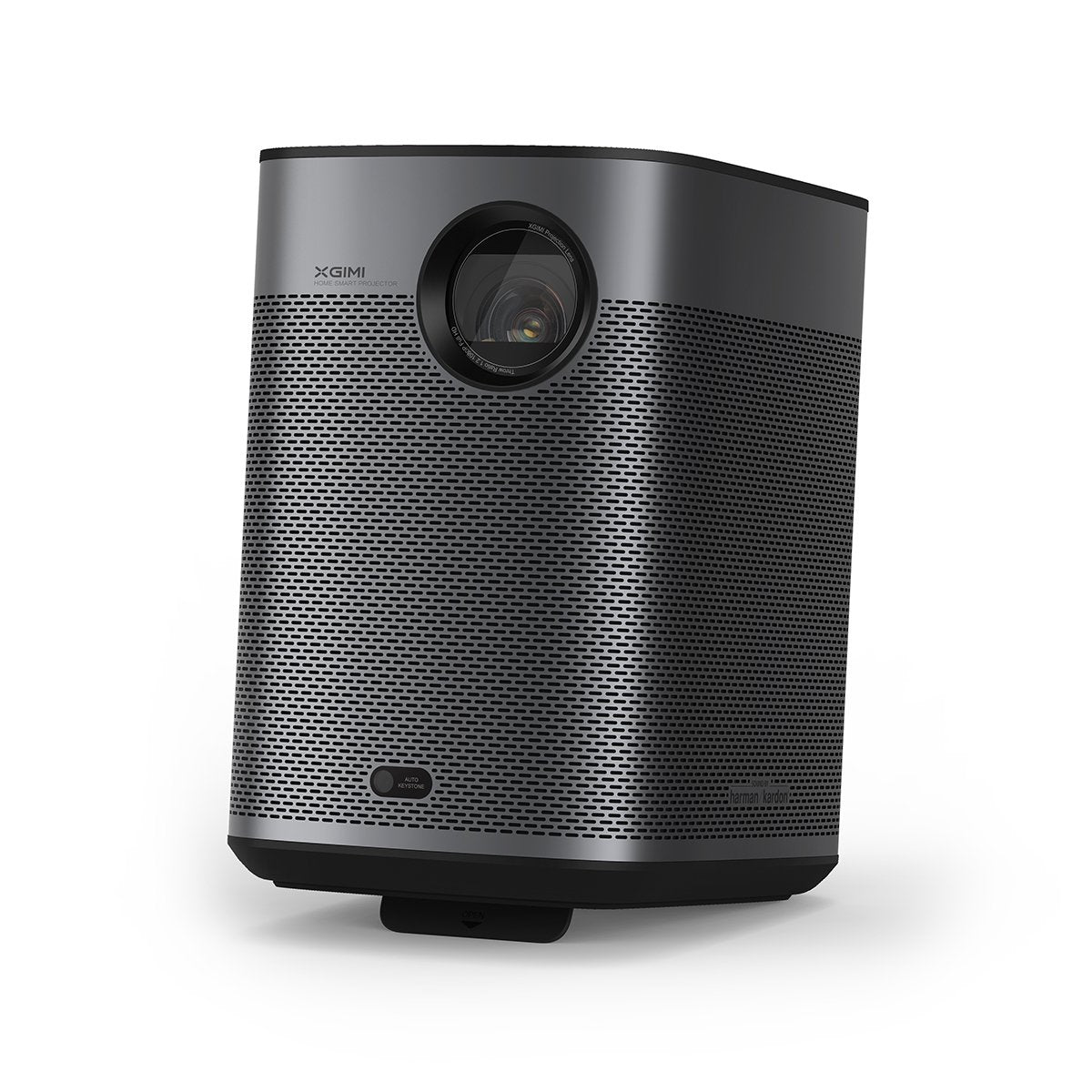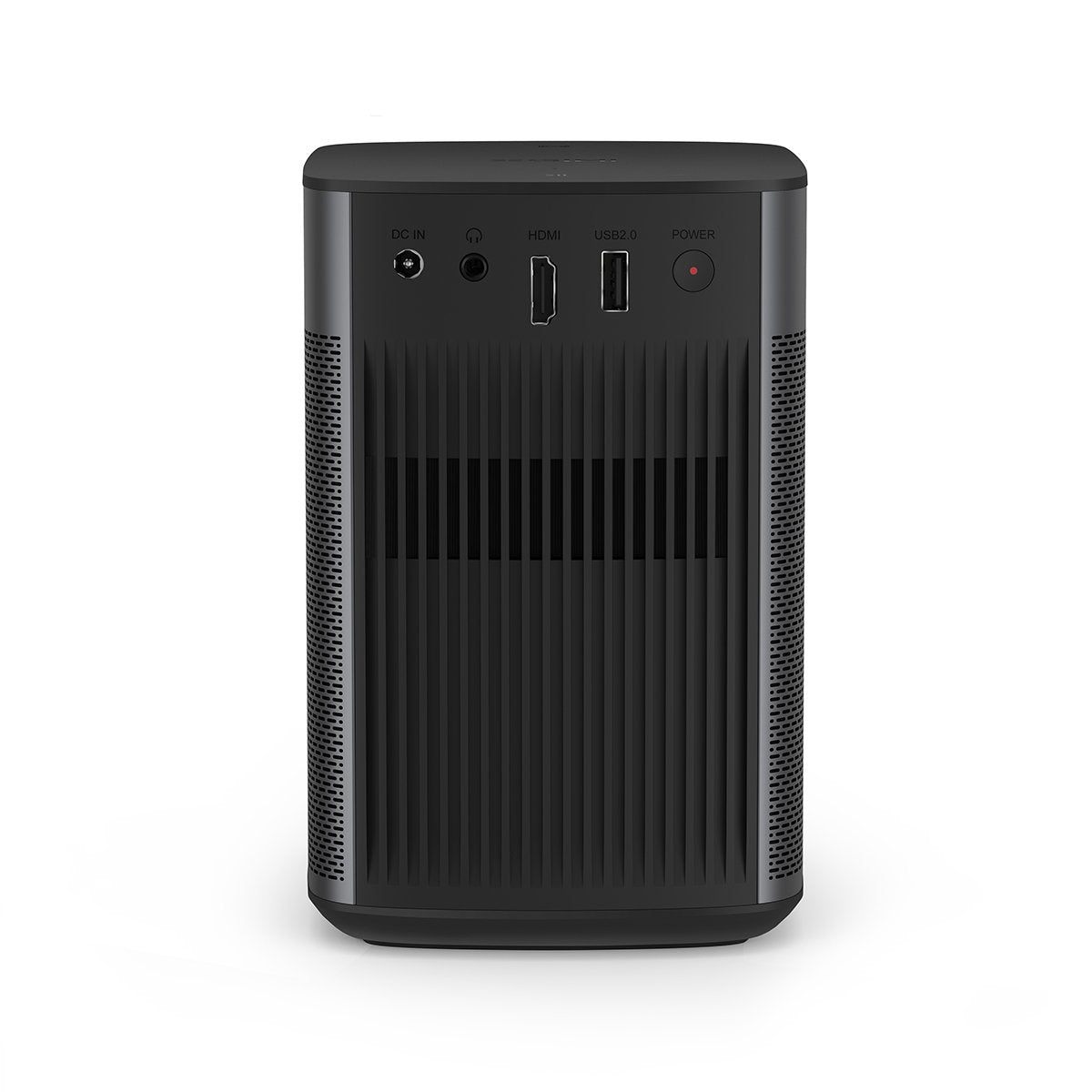 XGIMI MoGo Pro+ (1080p Portable Camping Projector)
As another powerful portable projector product from XGIMI, MoGo Pro+ packs powerful features that can deliver a fantastic camping movie night adventure:
● Built-in Battery: MoGo Pro+ packs a built-in battery that can support up to two hours of usage, enough for at least one movie.
● 2GB/16GB Storage Space: MoGo Pro+ runs on 2GB RAM and has an internal storage of 16GB for users to download and save their preferred content for later offline viewing.
● 200-inch Display: MoGo Pro+ can produce an image sufficient to fill a 200-inch screen, although a recommended range of 60–120 inches is ideal for balancing size and image quality. Widescreen displays help users appreciate movies better, see details clearly, and easily take in all the sights.
● Simplified Setup: For a hassle-free setup, MoGo Pro+ comes with auto focus that keeps the picture sharp and clear and auto keystone correction, which produces a correctly shaped display, with vertical and horizontal correction for up to ±45°.
● 1080p Resolution/300 ANSI Lumens: MoGo Pro+ projects in native 1080p resolution, delivering a clear and sharp image with enhanced details and a brightness of 300 ANSI lumens, enough to produce a bright display in low light camping conditions.
● Harman Kardon Sound: With dual Harman Kardon speakers, MoGo Pro+ offers clear and immersive sound for a fantastic camping movie night adventure.
Find more features and benefits of MoGo Pro+ here.
Conclusion
Sleeping bags, water, tents, backpacks, and other essential camping accessories are necessary for a smooth camping trip. In addition, watching movies around the campfire with loved ones offers premium nighttime entertainment, and portable camping projectors can deliver excellent quality viewing experiences.
Camping projectors generally boast features that make them perfectly fit for the occasion. With powerful sound and imaging qualities, lightweight and compact build, and features that streamline setup, portable outdoor projectors like XGIMI Halo+ and XGIMI MoGo Pro+ can elevate your camping experience.
Get €10 off Your Next Purchase
Join the XGIMI Community Today!